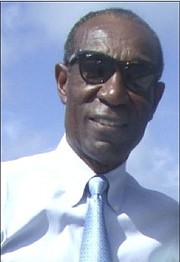 By RASHAD ROLLE
Tribune Staff Reporter
rrolle@tribunemedia.net
FRESH off a major Court of Appeal victory, FML Group of Companies CEO Craig Flowers may now be turning his sights to a new, bigger legal challenge: fighting Canadian banks operating in the Bahamas over their refusal to conduct business with the legalised web shop sector.
After attorney Wayne Munroe said Wednesday that Bahamian web shop operators could sue Canadian-owned commercial banks for discrimination over their refusal to accept deposits from the sector, Mr Flowers told The Tribune yesterday that he would "absolutely" present a legal challenge to the banks. He added that web shop operators would likely pursue such action collectively to produce a victory for the entire industry.
Such threats mark a shift in the efforts local web shop operators have taken to convince the Canadian banks to embrace their business. Government officials had previously taken the lead in the matter by seeking to assure the banks that the now regulated industry is safe for business and meets international standards.
For Mr Flowers, the banks' decision not to accept money from web shop operations displays institutional discrimination against such businesses.
"The policy here is that banks feel small operations like (my) own and other organisations that deal with gaming are more susceptible to corruption," he said. "Their feeling is, 'we believe Mr Flowers is open for acts of bribery and they don't want to deal with him because he' s a small, simple man, unlike Atlantis which is a big company.'
"The fallacy of their decision is, how can the bank say to Atlantis we can take your money but then decline to take ours? If I'm a foreigner I could spend money at Atlantis and Atlantis can take the money to the bank and the bank will take that money. The bank doesn't know the key information about Atlantis' customers, so how can they justify taking such money but don't take ours when we have Know Your Customer policies and we have customers whom we do our due diligence on and manage their accounts? We know their addresses and where they come from. Atlantis doesn't know their customers as comprehensively as we do. Yet the banks tell us, not them, no."
"Our objective is for us to be treated fairly," he said. "If you are going to say there is a concern about money laundering and terrorist funding and the like, then let us be held accountable for these things. Let us come forward and state our claim about what we are putting in place. But no, they won't do that. All the power is left in hands of banks."
State Minister for Legal Affairs Damian Gomez yesterday endorsed the idea of web shop operators pursing legal action against the banks, saying it would be an "excellent thing to do."
The banks that will not accept deposits from web shops because of their worldwide policy include CIBC FirstCaribbean, Royal Bank of Canada (RBC) and Scotiabank.
A position paper by RBC (Bahamas) states that conducting business with web shops would run afoul of its parent bank's global policies and US Federal law.
However, Bank of the Bahamas is doing business with web shops, having received clearance from its own US correspondent bank, JP Morgan Chase, to accept deposits from the legalised sector.
This, Mr Gomez said, shows US law does not prohibit banks from doing business with local web shops.
"(The aspect of US law that prohibits online gambling transactions) is not relevant to the services which web shops offer in the Bahamas," Mr Gomez said. "It is doubly irrelevant because under Bahamian law, online gaming in the Bahamas is restricted to Bahamian currency. There is absolutely no danger of co-mingling Bahamian and US currency in relation to gaming. In fact, the Bank of the Bahamas has a correspondent bank in the United States that has indicated they have no problem receiving local web shop monies in Bahamian currency and not in US. I think it's madness for banks to say they are not going to accept money for lawful operations under Bahamian law."
The government passed the Gaming Act last year and the Gaming Board is in the process of determining which web shops will receive licenses as gaming houses.