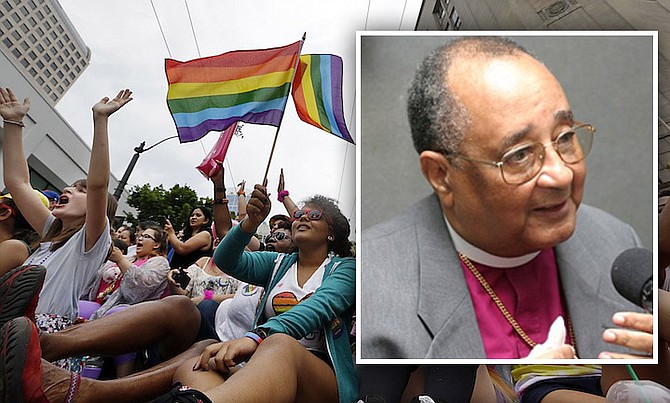 By RASHAD ROLLE
Tribune Staff Reporter
rrolle@tribunemedia.net
THE Bahamas will "inevitably" face "immense pressure" to let gays and lesbians marry in this country, retired Anglican Archbishop Drexel Gomez told The Tribune yesterday as pastors across the country responded from their pulpits to the US Supreme Court's decision to legalise same-sex marriage nationwide.
"I expected the ruling which came down from the US Supreme Court," Archbishop Gomez said when contacted yesterday. "It's happening all across the western world and promulgated by governments. It's all a part of a new man-made doctrine, an attempt to extend democracy principles to human life."
"I don't think there will be immediate implications for The Bahamas, but it's inevitable now and only a matter of time before pressure will be brought to bear on our government by the United States.
"In terms of aid and relationships, the tendency is historically for the US to have its way and to ensure that you go their way when they give you aid and assistance. It can only be done through laws and if it means changing the laws I still maintain that the traditional teaching on marriage is biblical and represents God's wish for the ways in which human begins can relate to each other."
Local lesbian, gay, bi-sexual and transgender (LGBT) experts seemed to agree with Bishop Gomez's prediction. Dr Peter Bailey, a College of the Bahamas English professor who specialises in Victorian studies and feminist, sexuality and gender studies, told The Tribune that globalisation will inevitably cause cultural attitudes toward same-sex rights to change.
And despite the Bahamas' traditionally staunch opposition to issues favourable to the LGBT community, Archbishop Gomez said some people fear this won't be enough to stop change from coming, saying the resistance to gay marriage is based on shifting cultural opinions not faith-based ones.
"I think a lot of the resistance of the present is not of faith," he said. "It's more of a cultural thing. That is my fear. People who do this out of faith, their numbers are reducing. For example, in Jamaica they resort to violence. We don't support that because we don't support bigotry and violence. We recognise that humans are entitled to being treated in a humane way. But while we still have a strong religious body, when I speak to people in their early 30s and below, I get the impression they aren't as attached to the religious tradition as older people are. "That's why I have a fear. Their opposition to this is not based on faith; it's based on culture. I approach it from the faith perspective. It's up to the church to try to strengthen that as far as humanly possible."
Archbishop Gomez said he is not supportive of using legal means to ensure gay marriage does not become a reality in the Bahamas, saying he believes only faith can win out.

"Some of my colleagues in the ministry are saying we must change the Constitution so if the day arises and people want to go in that direction you would make it as difficult as possible for them to go that way," he said.
"People who say we must put such provisions in the Constitution must realise that doesn't prevent it but merely makes it more difficult. My approach is from a matter of faith. What do people really believe? If they don't believe in the traditional institution of marriage then I don't want to go (the legal route) to correct what should be a matter of faith. If we reach the time when a majority of Bahamians no longer believe it, then the next move will be to change it."
As some wonder if the US' decision has any immediate legal implications for the Bahamas, Attorney General Allyson Maynard Gibson shut down the notion yesterday, emphasising that our laws unequivocally state that a marriage is between a man and a woman.
"The Bahamas has faced immense pressure previously," she said about the pressure the country may face to change its laws on the issue. "But we have our own unique identity and Bahamians will always be the ones deciding what they want to do. The law of the Bahamas is very clear."
On Friday, the US Supreme Court delivered a historic victory for gay rights, ruling five to four that the American Constitution requires that same-sex couples be allowed to marry no matter where they live and that states may no longer reserve the right only for heterosexual couples.
Commenting on the ruling last week, US President Barack Obama said in a White House statement that the court ruling has "made our union a little more perfect."