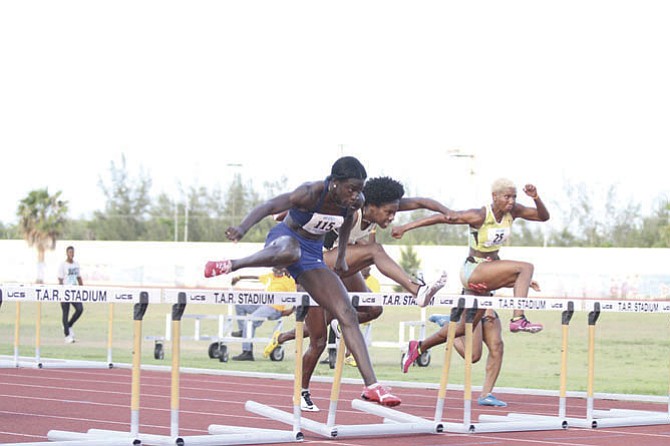 By BRENT STUBBS
Senior Sports Reporter
bstubbs@tribunemedia.net
WHILE the focus of attention was on the marquee athletes in premier events at the Bahamas Association of Athletic Associations National Open Track and Field Championships, sprinter Adanaca Brown stepped up loud and clear for everybody to take notice of her.
The relatively unknown Brown, who moved to the United States but never got a chance to compete on the collegiate circuit, posted two stunning performances as she raced to a third place finish in the women's 100 metres on the first day of competition Friday at the Thomas A Robinson Track and Field Stadium.
But Brown, 21, bounced back on Saturday in her specialty as she stopped the clock in 13.00 to even the Bahamas women's 100m hurdles record that is held by collegian Devynne Charlton that she ran on June 13 at the NCAA Championships in Eugene, Oregon and matched the winded-aided time she ran as a professional athlete in a meet in Clermont, Florida.
In the process, Brown joined Charlton, who finished second in the race in 13.16, in surpassing the qualifying standard for the IAAF World Championships in Beijing, China in August.
"The race was magnificent for me. I trained so hard for this race and I came from a long way to get to this point," Brown said. "I just felt that it was a job well done."
Immediately after she completed the race, Brown heard the cheers from the fans and public announcer Bernard Newbold indicated that her performance was a World Championship qualifier, which drew even more cheers from her supporters in the stands.
"It feels great. This is my first time that I will be attending the World Championships and I'm so excited, very excited," she stated.
Looking back at the race, Brown said the competition was stiff with a stacked field that included a few international athletes, including Lavonne Idlette of the Dominican Republic, who was third in 13.28 and Yvette Lewis, representing Nike, who was fourth in 13.30. Krystal Bodie rounded out the top five in 13.36.
"The competition was pretty good. My start wasn't what I expected to be, but I thank God anyway," Brown said.
With less than two months to go before the championship, Brown said she will be focusing on her training routine as she "goes back to the basics" to prepare herself.
As for the century, Brown finished third in 11.55, trailing national champion Sheniqua 'Q' Ferguson, who won in 11.41 with Charlton taking second in 11.54.
For Brown, she felt that hardly anybody knows about her because she was never in the spotlight having bypassed the collegiate circuit. But she noted that she's taking it all in stride.
"This road has not been easy for me, so I'm just glad to come out here and compete injury free. God has been so good to me," Brown said. "The competition was pretty good, so I was just proud to know that I can come home and compete against this type of competition. It's just a blessing."
Ferguson, who missed out on the opportunity to qualify for the World Championship, admitted that she didn't do what her coach Henry Rolle expected of her, but she was still pleased to have secured the title.
"I wanted the time to be a little better. I guess you have to progress every time and use every race as a learning experience," she said. "So I just have to go back to the drawing board in practice and try to put it all together for a much better showing this year."
As the oldest member of the field at age 25, Ferguson said she was very pleased to have ran against the youngsters.
"I ran with some of them on the World Relays team, so I was proud to come out here and run with them again," she said. "I am so proud of all of them because right now we need some more girls to step it up in our sprint events, so I'm happy to see that we still have a good crop of competitors to continue the legacy that has been left by the Golden Girls."
Although her signature event is the 100m hurdles, Charlton has been making her presence felt in the century, running a season's best of 11.37 in a collegiate meet in East Lansing, Michigan on May 17. So she too was glad to come home and test her skills against her local rivals.
"I think the race went pretty good. I had a decent start, coming down to the end I started to fade and I tried to hold on as best as I could," Charlton said. "The 100 metres was just something that I am doing on the side, but the hurdles is my main event. I broke the junior national record and dipped under it a few times, so I was very happy about that. That was one of my goals last year and after it didn't happen, I was glad to get it this year in my first year as a senior athlete."
And despite the fact that her performance in the hurdles wasn't exactly what she anticipated, Charlton said she's confident that she can go to Beijing and have a sensational showing in her debut at a major international event when she teams up with Brown for a 1-2 punch in the hurdles.