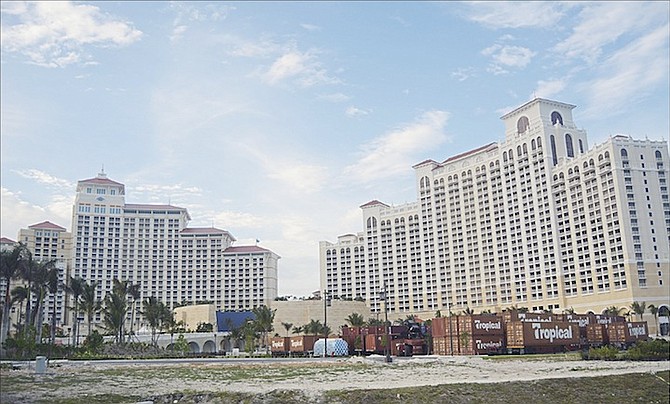 By SANCHESKA BROWN
Tribune Staff Reporter
sbrown@tribunemedia.net
BAHA Mar CEO Sarkis Izmirlian announced yesterday that the $3.5bn Cable Beach mega resort has filed for Chapter 11 bankruptcy in a Delaware Court in the United States "in order to complete construction and successfully open".
The shock announcement came less than two weeks after Prime Minister Perry Christie said he received "encouraging" news about a possible impending resolution to the Baha Mar deadlock.
In a statement sent to the media on Monday, Mr Izmirlian said Baha Mar will continue for a period to operate and fund payroll. However, if a consensual resolution cannot be made in the next few weeks, Baha Mar "will have to make some extremely difficult decisions that would include workforce reduction."
The statement stressed that Chapter 11 is not a liquidation process and the resort has "asked the court for approval to continue paying the salaries and benefits of its employees."
The Meliá Nassau Beach will continue to operate but the convention centre and golf course will not be open during this process.
Mr Izmirlian blamed the resort's financial troubles on "repeated delays by the general contractor", China Construction America, and said filing for Chapter 11 bankruptcy "is the best path to provide the time to put in place a viable capital structure and working relationships to complete construction and successfully open Baha Mar."
"The general contractor repeatedly has missed construction deadlines. This has caused both sizeable delay costs and forced the resort to postpone its opening. Unable to open, the resort has been left without a sufficient source of revenue to continue our existing business," Mr Izmirlian said.
"In fact, after the general contractor made a guarantee to us in November 2014, and then again in January 2015, that Baha Mar would be able to open in its entirety on March 27, 2015, we undertook all preparations necessary for this promised opening date, including significant hiring and training of nearly 2,000 employees and purchasing of goods and services. Indeed, even when we subsequently found out that the March 27 deadline was not feasible because the general contractor had still not completed construction, rather than simply downsizing, we maintained our employment levels in anticipation of a revised opening date, utilising our financial resources to pay employees to continue their work at the project and participate in volunteer activities around the island for the benefit of the country.
"At the same time, we sought the help of Baha Mar's major lender to bring to fruition the completion of construction and the successful opening of Baha Mar, including informing both the lender and the general contractor of our willingness to invest more of our own funds to help cover the delay costs," Mr Izmirlian said. "Unfortunately, our efforts, as well as those of the Bahamian government, have not accomplished that objective. Construction on the project remains incomplete and, consequently, we have not been in a position to set a revised opening date. Thus, the Chapter 11 process is the best path for Baha Mar to now undertake."
He added that Baha Mar believes "that a negotiated solution is possible among the existing parties to the resort project that would lead to its completion and successful opening."
He said to allow time to explore a consensual solution, Baha Mar will, for a period of time, continue to operate and fund payroll.
"We will do our very best to continue to engage the resort's lender to reach a consensual resolution that assures our ability to complete construction and open successfully. However, if we cannot reach a consensual resolution in the next few weeks, we will have to make some extremely difficult decisions that would include workforce reductions."
Among the largest unsecured creditors listed were China Construction America Bahamas Ltd, owed $72.6 million in construction costs; Bahamas Electricity Corporation, owed $19.5 million; and Yates-Osprey, owed $5.28 million.
Mr Izmirlian thanked the government of the Bahamas, in particular Prime Minister Perry Christie for his "efforts on behalf of Baha Mar."
The statement said motions are currently being filed with the court, seeking approval for, among other things, "debtor-in-possession (DIP) financing to fund continued payment of salaries and benefits, and payment to ordinary course suppliers and vendors of any post-petition claims."
This financing will, among other things, enable Baha Mar to operate and meet its financial obligations in the interim during the Chapter 11 process. The total DIP facility is up to $80 million of which up to $30 million will be utilised by Baha Mar over the next 30 days.
Baha Mar is six months behind its December 2014 opening deadline. It has missed subsequent opening dates in March and May of this year.
In a statement earlier this year, Baha Mar criticised the performance of lead contractor China Construction America, revealing that work at the property had not met the expected "standards of excellence" and was, therefore, not acceptable.
Mr Izmirlian has repeatedly flown to China for discussions about the project.
In May, a well-placed source in the Christie administration told The Tribune that Baha Mar did "not have the cash to finish the project or pay the contractor."
For months, Baha Mar executives have been locked in meetings with CCA attempting to work out a deal to finish the resort before the end of the year.
Baha Mar has not announced a new opening date for the luxury property.