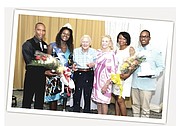 KELLY'S 23rd Bride of the Year Erin Brown might also be the Mother of the Year or the Disabled Person of the Year. Stalked by tragedy, she turns each blow into a challenge and then into success which she shares with those around her.
There was not a dry eye in the room when Kelly's House and Home's Bride of the Month for October 2014 took the stage as the new Bride of the Year 2014/15.
Erin lost a leg to bone cancer 11 years ago, lost her mother to lupus when she was only 17 and a daughter to an accident.
Her solution? Founding Erin Brown Connects (motivational speaking, public relations and marketing for events) and the Erin Brown Foundation, which focuses on empowerment of the disabled and of young women. Started in 2006, the foundation's sporting division provides advocacy and vocational training for persons with disabilities.
"I let them know that life is not over. We are able to do things, just differently. We still can get it done, perhaps with assistance from a device or accommodations like a ramp or a person holding a door. We just need a whole lot of patience. My personal journey is showing that no matter how hard it is; there is a divine plan for all of us," Erin said.
"I always remember that people may be born or pushed in a certain way until they are unable to dream. I want to let them know they can do it. Life is not easy for any of us. Don't hold on to the negative disadvantages. If you continue to push, something will happen."
Erin, for instance, already has organised a group and rode with them in the last Ride for Hope and was training for the Paralympics Triathlon in Rio de Janeiro when she discovered she was pregnant. "So I will train for the next Paralympics," she said.
She even plans to make an event of the gender reveal of her new baby.
She and her husband, Tametryo Brown, married last October, and are involved in the care of seven children, counting their own expected child. He has three children, she has one living son. They have his two recently orphaned nieces living with them and are expecting their own baby in July. Her ailing father also lives with them.
Vincent Vaughan, Kelly's official photographer and long-time judge for the Bride of the Year event, said: "Mrs Brown takes all the oxygen with her when she leaves a room. She is phenomenal."
Kelly's House and Home President Nancy Kelly shared memories of her "46 years of happy marriage" to the late David Kelly and thanked the judges and bridal consultants who make the Bride of the Year and the bridal department such a success.
"When Sara Parker and I came up with this idea over a drink at the Village Squash Club we never dreamed Kelly's Bride of the Year would still be going strong 23 years later," Mrs Kelly said.
Ms Parker, co-creator of the event as Kelly's Account Executive with PS Advertising, now a realtor and TV producer, thanked Nancy Kelly and the Kelly's family for the vision and hard work which have helped this promotion and Kelly's to grow for more than two decades. "That's nearly 300 Brides of the Month. Now on to the next 88 years of Kelly's," she said.
Runner-up to the Bride of the Year was April's Bride of the Month, Alkeriria Rahming-McQuay, financial controller of Custom Computers. She is married to Ian Allenyne-McQuay, a physician with the Public Hospitals Authority.
The Bride of the Year receives a $1,000 gift certificate from Kelly's House and Home plus hundreds of dollars in prizes. This year, the runner-up received a $250 gift card from Kelly's and prizes. Judges agreed, this year's competition was even closer than usual.
Head of Kelly's bridal department Beverley Maycock said: "It is so easy to enter our Bride of the Month and Bride of the Year competition. Simply come to Kelly's House and Home Bridal Department in the Mall at Marathon and register your choices of bridal china and crystal. It's that easy. Of course you also can register all your bridal choices, right down to a barbecue grill for the bridegroom. Our well trained bridal consultants will help you find exactly what you want from our wide variety of products."
Mrs Kelly added: "I want to thank our judges who each year select brides who keep our bridal commitment strong. To our Brides of the Year, you are all winners. I wish you all success in your life and with your dreams."
More like this story