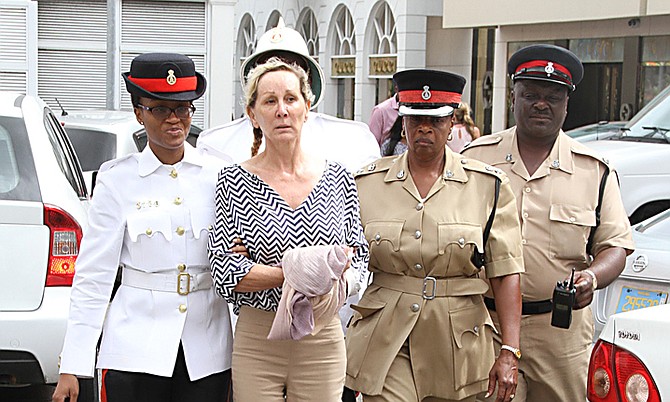 By NICO SCAVELLA
Tribune Staff Reporter
nscavella@tribunemedia.net
A TRIAL date was set yesterday for a woman currently on remand in connection with her Australian husband's murder.
However, the lawyers for Donna Vasyli informed the judge that their client would seek to apply for bail a fourth time in view of the Crown's admission of needing more time to review various aspects of the case.
Yesterday, Supreme Court Senior Justice Stephen Isaacs set Vasyli's trial date for September 7, 2015. On Monday, this newspaper reported that Supreme Court calendars for available trial dates are now into 2018.
The 54-year-old widow faces a murder charge in connection with the fatal stabbing of her millionaire podiatrist husband, Philip Vasyli, on March 24.
Senior Justice Isaacs also set an August 25 date for a mention hearing, or "pretrial review."
However, prior to Senior Justice Isaacs' deliberation, prosecutor Neil Braithwaite told the judge that the Crown had not yet completed its review of various aspects of the case, such as the prosecution's review into forensic evidence, surveillance footage and photographs related to the murder.
In response, one of Vasyli's lawyers, Murrio Ducille, said it was the defence's understanding that the Crown was ready to proceed on the matter heading into yesterday's hearing. As such, Mr Ducille informed Senior Justice Isaacs that in view of the prosecution's statements, his client would propose to renew her bail application.
When asked by The Tribune yesterday when he and Vasyli's other lawyer, Elliot Lockhart, QC, would issue a formal bail application, Mr Ducille said he was unsure, but "we have to at this point." Mr Vasyli, 58, was found dead at the couple's Old Fort Bay home with multiple stab wounds. He was the owner of four podiatry clinics – three in Sydney, Australia, and one at the Old Fort Bay Medical Centre in New Providence.
His wife was arraigned six days later, charged with his murder.
The Australian widow has been in the state's custody for three months.
Senior Justice Isaacs denied her bail within days of her March 30 arraignment in Magistrate's Court and then a second occasion on May 1 after the Court of Appeal had remitted the matter back to him to explicitly state why he had denied bail.
In May, the Court of Appeal rejected her bail appeal, prompting her lawyers to consider the option of taking the case to the London-based Privy Council for a final decision.