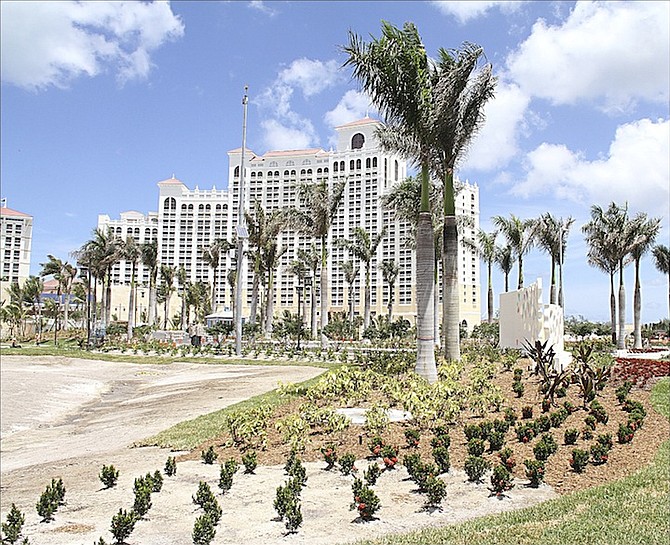 By AVA TURNQUEST
Tribune Chief Reporter
aturnquest@tribunemedia.net
MORE than 2,000 Baha Mar workers were yesterday told to stay at home until further notice as the mega-resort pledged to pay salaries and benefits for the next three weeks until it begins court hearings on its Chapter 11 bankruptcy claim.
In a letter to employees yesterday, Baha Mar CEO Sarkis Izmirlian revealed that while the resort and its affiliates have requested court authorisation to continue payroll obligations – which average $7.5m per month – it is unclear whether it will be able to reach an acceptable agreement with its lender.
Mr Izmirlian explained that if such an agreement cannot be met, the cash-strapped resort will be pushed to make "extremely difficult decisions" that include reductions to its workforce.
However, he urged Baha Mar "citizens" not to give up in the face of repeated delays he said were caused by the general contractor, China Construction America, and the resulting loss of revenue that put the project on the path to declaring bankruptcy.
"Unfortunately, with construction still not completed and Baha Mar's opening continuing to be delayed, we have been put in the position in which we can only maintain the property and its assets rather than operate it," the letter to employees read.
"Many of you know that I fight for what I believe in. From being together on this project, I know that you believe in Baha Mar and what it means for our community. Do not give up. I am not. Opening Baha Mar will be a great accomplishment and one of which I will do my best to make you a part. Please know I am committed to doing all I realistically can to complete and successfully open Baha Mar as a world-class destination resort that will attract guests from across the globe and serve as a key economic sparkplug in the Bahamas."
The letter went on to explain that the resort had voluntarily filed for Chapter 11 bankruptcy, which it stated would provide the best opportunity to allow for the completion of construction and a successful opening.
Mr Izmirlian added: "I am committed to doing what I can for all of you. Baha Mar will continue for a period to operate and fund payroll and we are also using the next few weeks to try and reach a consensual agreement with our bank lender. If an agreement cannot be reached, we will have to make some extremely difficult decisions that would include workforce reductions. At this time we can't speculate about what that may mean."
Chapter 11 is a form of bankruptcy in the United States that gives court protection to debtors' assets while it reorganises business affairs and restructures their debts. It is considered to be the most complex, and as a result the most expensive, type of bankruptcy case.
In an affidavit supporting the Chapter 11 petitions of the resort and its affiliates, Baha Mar President Thomas Dunlap explained that payroll costs – excluding the Melia resort – averaged $7.5 million per month.
"Approximately $4 million of that average monthly payroll is attributable to 2,070 of the debtors' employees that were hired in early 2015 in anticipation of the project being completed and opened to the public on March 27, 2015," Mr Dunlap's affidavit read.
"Over 1,700 of these recent hires are rank and file employees that the debtors spent significant time and resources training to be prepared to operate the project by the end of March 2015. Since that time, the debtors' management has worked diligently to keep as many of these employees busy on various projects around the project property as well as on off-site public works projects around New Providence Island."
It added: "Notwithstanding the commencement of the Chapter 11 cases, it is the debtors' intention to continue to operate, fund payroll for the project, and evaluate all alternatives, until further court hearings which are anticipated to take place in three weeks' time."
According to Mr Dunlap's affidavit, the nearly 1,000 employees and staff required to operate the Melia resort will be retained during the course of the court proceedings.
Last week, Prime Minister Perry Christie acknowledged that the standoff between Baha Mar and its contractor could result in the resort eventually lacking the capacity to pay the thousands of people currently on its payroll.
In May, around 150 Baha Mar employees were reassigned from the areas where they were originally hired to an inner city cleanup initiative with Urban Renewal 2.0. Meanwhile, other workers were dispatched to other areas of the resort, including security, fire watch and construction cleanup.