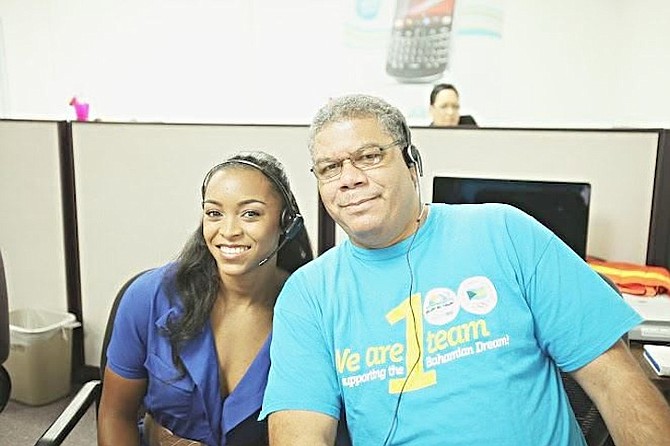 WITH a string of glittering performances and a name like Arianna Vanderpool-Wallace you would have thought that public recognition would come easily.
But the Bahamian Olympic swimmer, now ranked in the world's top five in her signature event, the 50m freestyle, says her sponsorship by BTC has helped get her name more widely known as well as helping her with crucial funding.
Fresh from her double-gold success at the recent Arena Pro Series meet in Orlando, Florida, Vanderpool-Wallace, who is currently featured in BTC's advertising campaign for hi-speed internet, thanked the company for financially enabling her to get the training she needs and boosting her image in Bahamas.
"2015 marks year three of my sponsorship by BTC, and the relationship has been really helpful," said Vanderpool-Wallace. "Funding, for a professional athlete is crucial. The funding that they provide allows me to get what I need to be the best athlete I can be. It ensures I get the supplements I need, the right food, physiotherapy, and other essentials. It is absolutely necessary."   
"The sponsorship has also really helped to get my name out. Before, people would see me and know me as 'the swimmer' but thanks to BTC they know who I am, and call me by name."
The swimmer said she is pleased with her recent performances, and hopes her success can help to break down barriers for Bahamian swimmers coming after her. 
"It's great to win, but I am more excited about my race times. Right now, I am ranked fifth in the world in the 50 freestyle, the first time I have been ranked top ten at this time of year, so it feels great and I think it will help to catapult me into my next meet."
"It's exciting to know that I am setting a path for other swimmers to follow. I know that when I was coming up there were swimmers like Nikia Deveaux and others who were the first to do what they were doing. So I hope that I can be that next step and that more Bahamians will follow in our footsteps in the sport."
Vanderpool-Wallace has a busy 2015 agenda. Her schedule will take her throughout the US, Canada, Mediterranean and possibly Russia for the World Championships. However, she still intends to come home to the Bahamas to give back.
She will return for the Bahamas Swimming Federation's inaugural Gala Awards this month and leverage her experience to improve the sport in the Bahamas. Teaming up with fellow Bahamian Olympian Vereance Burrows and American Olympic champion Ryan Lochte, Vanderpool-Wallace will lead a skills and technique workshop for competitive swimmers in the country.                                                
She has also rounded up some of her American teammates to volunteer with 'Let's Swim Bahamas,' a learn-to-swim programme that provides free swim lessons to Government Primary Schools.
BTC is well known as a promoter and financial supporter of Bahamian talent across all fields providing financial assistance and sponsorship for education, performance artists and athletes.
Eldri Ferguson-Mackey, BTC Vice President, Marketing, Brand and Communications, said that BTC's commitment to nurturing Bahamian talent is part of the company's culture of philanthropy and nation building.
"BTC is committed to supporting the development of young Bahamian students, athletes, entertainers, and entrepreneurs, who stand as examples of the best of what The Bahamas has to offer," she said.