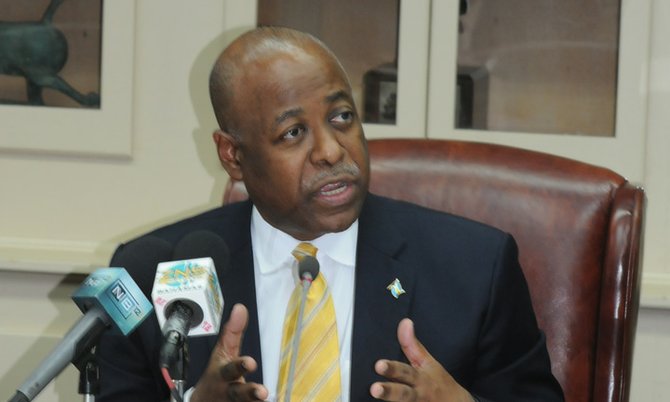 By RASHAD ROLLE
Tribune Staff Reporter
rrolle@tribunemedia.net
LONG Island MP Loretta Butler Turner said she is surprised by the government's apparent struggle to secure a headliner for the inaugural carnival, adding that this reinforces her belief that efforts should have focused on capitalising on Junkanoo, the country's greatest cultural expression.
Her comments came after Tourism Minister Obie Wilchcombe said yesterday that officials are "still working" on securing an international headliner for the event concert, which will take place in Nassau on May 7-9.
According to media reports, Paul Major, the head of the Carnival Commission, has admitted that the delay in announcing a headline performer for the event will compromise the commission's efforts to secure international business.
Nonetheless, Mr Wilchcombe stressed yesterday that he is not concerned about the delay, adding that the goal has never been to let an international artist dominate the festival.
"The fact is it's a Bahamas event featuring Bahamian artists," he said. "International artists will not dominate the show. We want Bahamian culture and artists to dominate simply because we're trying to attract people to the Bahamas to attend the event."
When asked about the matter yesterday, Mrs Butler-Turner expressed disappointment with the whole initiative.
"It's a sad thing because I think the government could have effectively capitalised on the known cultural event, Junkanoo," she said. "When you look at the origins of this carnival event, you realise that it was something in my opinion that was not fully thought out. I remain flabbergasted to learn we would take $9m to spend on something culturally unknown to the Bahamas when we have a longstanding cultural tradition here."
"I do find it surprising that they haven't secured a headline act; I do because essentially this whole mantra of believing in Bahamians is being pushed aside in favour of needing to have a headliner to attract people to the Bahamas. I think they could have more effectively emphasised the Junkanoo experience.
" . . .Jamaica didn't bring in a foreign headliner for people to appreciate reggae. Why bring in a foreigner to achieve this objective? Why use carnival for which we have no historical basis? That's a question mark."
The Carnival Commission initially wanted American singer Janet Jackson to headline the event, however the government rejected this proposal.

It has been reported that the government was in talks to get Barbadian singer Rihanna as the event's main act, however it is unclear if that deal is still on the table.