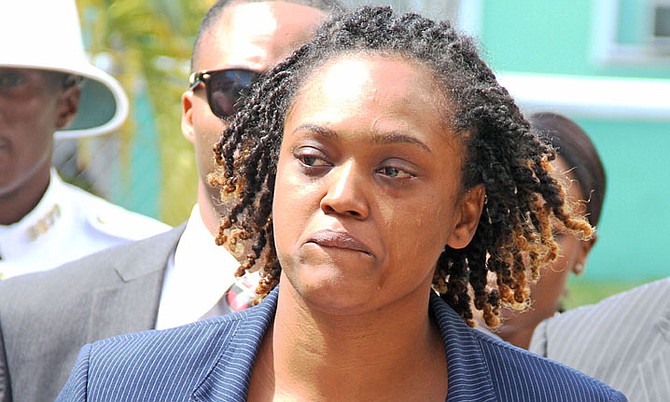 By LAMECH JOHNSON
Tribune Staff Reporter
ljohnson@tribunemedia.net
A WOMAN was led away from a courtroom in tears yesterday after she was arraigned in connection with the death of a female whose partially burned body was found with a "black cord" wrapped around her neck.
Katriona Gilbert was processed at the Nassau Street police station before police escorted the visibly distressed 28-year-old to stand before Chief Magistrate Joyann Ferguson-Pratt on murder and arson charges stemming from the February 23 discovery in Miller's Heights.
"I'm about to arraign you on the charges of murder and arson," the chief magistrate told the Farming Gail Road resident.
Gilbert was charged with murder under section 291 (1b) of the Penal Code, chapter 84, which does not attract the discretionary death penalty if a Supreme Court jury finds her guilty at trial.
"It is claimed that you, on Monday, February 23, at New Providence, by means of unlawful harm, did intentionally cause the death of Ariel Lowe. For this offence, you are not required to enter a plea," the chief magistrate said.
Gilbert is also alleged to have "intentionally and unlawfully caused the dwelling house of Karen Stubbs, at Margaret Road, Miller's Heights, to be set afire."
The accused was also not allowed to enter a plea to this indictable offence.
"Now on these offences, because they are indictable, bail does not arise and you are therefore remanded to Her Majesty's Prison. You may apply for bail to the Supreme Court," the chief magistrate added.
The accused was then informed of her scheduled reappearance in Magistrates Court on May 5 for the case to be fast-tracked to the Supreme Court.
However, before the arraignment was concluded, her lawyer Roberto Reckley, raised an issue before the chief magistrate.
"Ms Gilbert, when she was in police custody, she participated in a record of interview in the absence of her attorney, Mr (Wayne) Munroe (QC), who'd seen her before the interview was taken," said Mr Reckley.
"I wish for that to be placed on the record at the earliest opportunity, that being now," he added.
"I've made a note of that," the chief magistrate replied before remanding the accused to the Bahamas Department of Correctional Services, formerly Her Majesty's Prison.
The teary-eyed accused briefly glanced back at three relatives seated behind her before police led her away to await the prison bus.