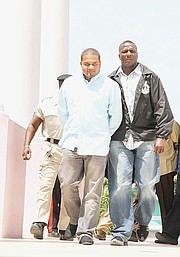 By LAMECH JOHNSON
Tribune Staff Reporter
ljohnson@tribunemedia.net
A PILOT recently convicted in connection with a $1m drug seizure will remain behind bars until the conclusion of his appeal, the Court of Appeal ruled yesterday.
Darryl Bartlett and his lawyer, Murrio Ducille, appeared before Justices Abdulai Conteh, Neville Adderley and Jon Isaacs seeking bail ahead of Bartlett's hearing against conviction and sentence for 12 crimes he was found guilty of committing on April 7, 2014.
And while the judges denied bail as there were no exceptional circumstances, the court expedited the hearing of Bartlett's appeal against conviction to April 29.
Bartlett, with Murrillo Sullivan, was convicted of three counts of possession of dangerous drugs with intent to supply, conspiracy to possess dangerous drugs with intent to supply, conspiracy to import dangerous drugs and importation of dangerous drugs.
At trial, Drugs Enforcement Administration (DEA) agent Eric Durante testified that the accused were in contact with him before the flight left Canada en route to Treasure Cay, Abaco.
Agent Durante said he instructed the men to bring the bags to Nassau after they contacted him during the flight, questioning why there was "heat" at the airport in Abaco.
The pilots and Michael Webster, however, were arrested on their arrival at Executive Flight Support in New Providence.
Webster reportedly told Inspector Weymond Demeritte, in the presence of Bartlett and Sullivan, that his girlfriend's father asked him to deliver the bags and two cell phones to an unnamed person in Treasure Cay.
At the trial, the two said they knew Durante and had been in communication with him from time to time, but denied being DEA informants.
They further denied knowledge and possession of $1m worth of drugs found on the plane, in which they brought a passenger from Canada to Nassau.
However, the magistrate said he found the evidence of Durante to be credible and that the prosecution had proved its case beyond a reasonable doubt.
Bartlett was sentenced to two years and six months in prison while Sullivan received two years and three months.
They had respectively served three and ten months on remand awaiting the outcome of the trial, which the magistrate took into account when imposing his sentence.