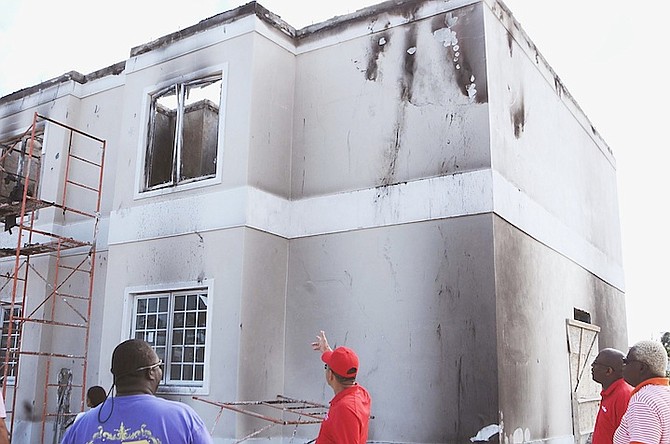 By KHRISNA VIRGIL
Tribune Staff Reporter
kvirgil@tribunemedia.net
SEVERAL Ministry of Works officials signed off on documents approving Paradigm Construction to receive more than $500,000 to begin construction of the male dormitory at the Bahamas Agriculture and Marine Science Institute in the absence of a valid certificate of insurance.
As of February 28, 2015, Paradigm had received 23 payments from the government.
According to the project's mobilisation payment certification routing sheet, a project manager/section head, quantity surveyor, the director of public works and deputy director, along with a representative from the accounts department of the Ministry of Public Works each signed the document giving the nod for the head of Paradigm, Audley Hanna, be awarded $520,000 or 20 per cent of the contract's amount in February 2014.
Works Minister Philip "Brave" Davis tabled the document, along with the project's contract and running balance as of February 28, 2015, in the House of Assembly yesterday. He said his review of the contractor's file still left several questions to be answered.
Despite Paradigm Construction only submitting a RoyalStar Assurance quote for the two-story male student dormitory, the officials' signatures appear several times on the mobilisation document.
The insurance quote was for a six-month period from February 7 to August 8, 2014. It included third party liability of $1m and a premium of $23,746.65. The policy would have covered contract works and a limit of indemnity.
The signed contract had a value of $2.6m with $3.25m in approved funding, according to the documents.
The routing sheet said payment certificate number one should have been accompanied by: a contract or letter of intent signed by the permanent secretary; the original claim letter signed by the contractor requesting payment; a copy of the bill of quantities/scope of works/schedule of works and the original contractors all-risk insurance, including public liability of not less than $1m.
A copy of a current business licence, current National Insurance Board compliance letter and the original contractor's performance bond, if applicable were also required.
Subsequent payments also required a copy of the all risk insurance, among other documents.
"I am now in a position to say that the contractor provided all that he was required, save a certificate for all-risk insurance," Mr Davis said yesterday.
"What the file does not tell me is who took the decision to advance the mobilisation without the requisite insurance, what intervention, if any, was made to ensure that this requirement was met once identified, and why the contract, which has been substantially delayed, was allowed to continue without this critical requirement."
More like this story