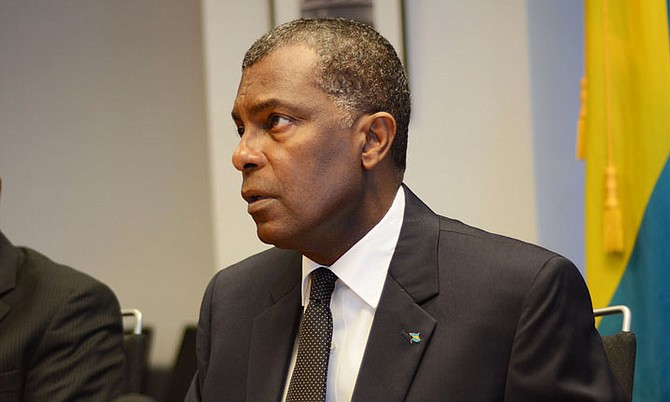 By AVA TURNQUEST
Tribune Chief Reporter
aturnquest@tribunemedia.net
IMMIGRATION Minister Fred Mitchell yesterday charged that the government was prepared to go to war against human smugglers and sympathisers in its bid to break a criminal enterprise that has facilitated a relentless "invasion" of illegal immigrants.
Mr Mitchell issued a strong warning that the country will not remain idle in the face of migration trends, suggesting that the high volume of illegal migrants could be a strategy to overwhelm the finite resources of the country.
He confirmed that 78 migrants, believed to be of Haitian nationality, had been interdicted in the area of Port New Providence yesterday morning. Of the group, there were 67 men, 10 women, and one five-year-old boy.
Mr Mitchell explained that the child was being held at a hostel, and officials expect to arrange repatriation with his father by Saturday.
He said officials are investigating reports that dozens of immigrants may have entered Abaco by boat illegally on Wednesday.
"There are 404 immigrants at the Detention Centre," he said, "so it's a really urgent issue for us to get people out of there, and we're trying with the best of our ability to make sure that that situation is relieved within days.
"Yesterday (Wednesday) we had information that there may have been a landing in Abaco with approximately 60 people on board who may have melted into the Abaco community. Investigations into that report are continuing."
Mr Mitchell remained tightlipped over the timeline for the start of phased enforcement operations in Abaco, where thousands of illegal migrants are suspected of residing in shantytowns; however, he confirmed that there will be an island-wide administrative exercise to ensure that all businesses are compliant with immigration laws. He noted that the geographical composition of Abaco made it difficult terrain to navigate.
"The intelligence reports are back to us, we have identified the areas that we need to move in and we've also identified the resources so it's just a question of the national security minister and the heads of the law enforcement agencies," he said.
"They will say to act and the idea is to act without notice because enough notice has been given."
He said that the Department of Immigration hoped to have amendments to the Immigration Act legislated by April 1 to allow for processing of applications for the belonger's permit, and a regulatory framework for the Carmichael Road Detention Centre.
Mr Mitchell said officials were "anxious" to get the bill passed, adding that they had hoped it would have been in place on or before the new policy was introduced on November 1.
He explained that the department has given Abaco's planned operations high visibility in a bid to ensure that illegal migrants are given fair warning to leave the country independently or seek documentation. He said that it was also important to minimise any friction with the Bahamian community, who will be impacted by the increase in checks.
"This is an invasion in the country," he said. "You have to look at it this way, the same facts that we know as managers of the facility (CRDC) or officials connected with the whole issue of immigration, you have to assume that the criminal enterprise have that same intelligence. So whatever we know, they know, and this is a very sophisticated criminal enterprise that is dealing with this."
"You can't put it past them that they would say if we overwhelm them with numbers, that's a capricious time for us to act because we know that if we overwhelm them with numbers they may have a capacity problem.
"I want to warn them, don't try us," he added. "Don't try us because we mean to defeat this, we mean to break this and it has to be broken. You can't have a situation where last year you had 100 people at a time arriving everyday with no status in the country, and the country just sits back and does nothing."
He added: "I just want to warn them that we mean to put the resources that this state can employ to stop this and to break this, that's the intention, and if it's war that they wish, then it's war they will get."