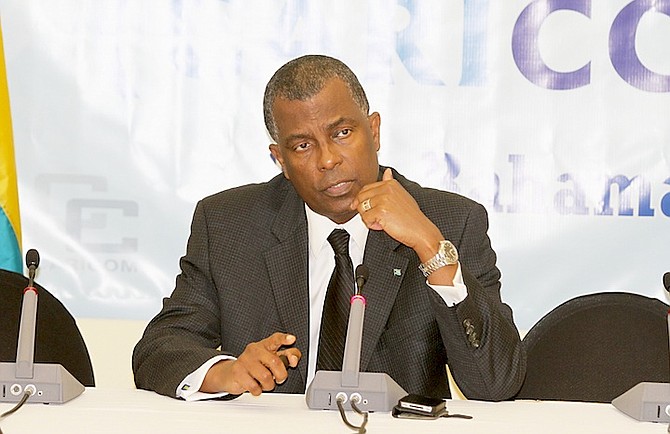 By NICO SCAVELLA
Tribune Staff Reporter
nscavella@tribunemedia.net
THE government began "intensive" immigration checks in Abaco yesterday as law enforcement agencies united in the search for 60 Haitians suspected of entering the country illegally last week, Immigration Minister Fred Mitchell said yesterday.
Mr Mitchell said the Department of Immigration is being assisted by the Royal Bahamas Police Force with the Royal Bahamas Defence Force on "standby for support" in Abaco following reports that dozens of people believed to be from Haiti slipped in undetected on the island last Thursday.
These checks, he said, would last throughout the next several days.
Last week, Mr Mitchell said the government was prepared to go to war against human smugglers and sympathisers in its bid to break a criminal enterprise that has facilitated a relentless "invasion" of illegal immigrants.
At the time, he said the Department of Immigration had received information that there may have been a landing in Abaco with approximately 60 people on board who may have melted into the Abaco community.
Mr Mitchell also issued a strong warning last week that the country will not remain idle in the face of migration trends, suggesting that the high volume of illegal migrants could be a strategy to overwhelm the finite resources of the country.
His statements came after 78 migrants, believed to be of Haitian nationality, were interdicted in the area of Port New Providence the morning before. Of the group, there were 67 men, 10 women, and one five-year-old boy.
"This is an invasion in the country," he said last week. " . . .You can't put it past them that they would say if we overwhelm them with numbers, that's a capricious time for us to act because we know that if we overwhelm them with numbers they may have a capacity problem.
"I want to warn them, don't try us," he added. "Don't try us because we mean to defeat this, we mean to break this and it has to be broken. You can't have a situation where last year you had 100 people at a time arriving everyday with no status in the country, and the country just sits back and does nothing."
He added: "I just want to warn them that we mean to put the resources that this state can employ to stop this and to break this, that's the intention, and if it's war that they wish, then it's war they will get."