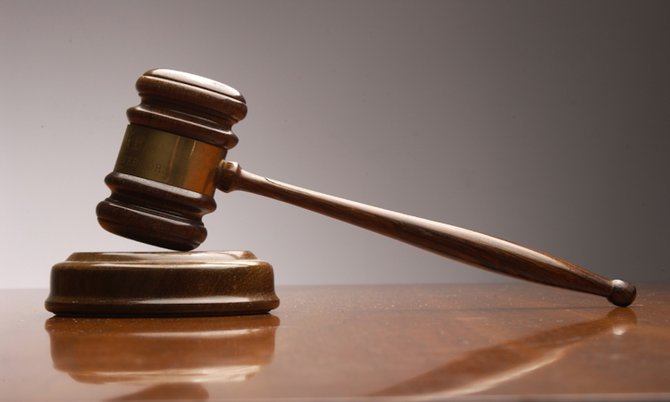 By LAMECH JOHNSON
Tribune Staff Reporter
ljohnson@tribunemedia.net
KEVA Major, the mother of a 17-year-old boy who was killed after being attacked and stabbed last June, had several emotional outbursts in court as the trial for the man accused of abetting the teen's murder began yesterday.
Though she admitted under cross-examination that she did not witness who fatally stabbed her son Enrico Major, it did not stop the her from glaring at accused Kervin Neely and telling him he'll "go to hell" after she left the witness stand.
It is alleged that Neely purposely aided Dwayne Peter Lockhart in committing the offence of murder on June 1, 2014.
Enrico Major was walking south on Baillou Hill Road near S C McPherson Junior High School when he was held up and stabbed in the head and back.
Lockhart, who was not represented at his formal arraignment in the Supreme Court last September, had initially pleaded guilty to the crime. However, Justice Turner did not accept the plea at the time and set the trial for March 2015.
On Monday, Lockhart, represented by lawyer Raymond Rolle, pleaded guilty for a second time and was sentenced to 24 years in prison, which took effect on the same day.
Neely, meanwhile, has maintained his innocence and has retained Glendon Rolle to defend him against the charge of abetment to murder, which he has denied.
In yesterday's start of his trial, prosecutor Aaron Johnson called Mrs Major to the witness stand and asked her if she had a son by the name of Enrico Major.
"Yes I do," said Mrs Major.
"On Sunday, June 1, 2014, did you see your son around 6pm?" the prosecutor asked the witness.
"Yes….he was at home," Mrs Major answered.
"Did you see your son any time after that?" Mr Johnson then asked.
"Yes…. I saw him just where he left him," Mrs Major exclaimed, pointing to Neely seated in the prisoner's dock.
She was cautioned by trial judge Justice Bernard Turner to answer based on what she was being asked.
Mrs Major then said she next saw her son "when I identified him at the morgue."
"How old was your son?" the prosecutor asked.
"My son was 17…if it wasn't for him he would've been 18," Mrs Major said, again pointing at the accused.
The witness was then shown the first of four photographs from a photo album depicting a facial view of a young male at the morgue with a wound in his head.
She looked away briefly when shown the photo and was asked what she could tell the court about the image.
"I could tell you a lot about the photo," she began, before again laying blame to Neely as the person responsible for the photo she had to view.
The emotional witness was, again, cautioned by the judge to answer based on what was asked of her.
"Your honour how am I supposed to answer that question when I saw my son in the morgue and he knows what he did," said Mrs Major.
Prosecutor Johnson rephrased his question and asked the witness if it was her son in the photo.
"It doesn't look like him but it is him," she replied.
Mr Rolle, in cross-examination, posed a single question Mrs Major: "You didn't see anyone stab your son did you?"
"Your honour I'm not going to answer that question. I can't take this any longer. Can I leave please?" Mrs Major said, as she turned to Justice Turner.
The judge informed the witness that she only needed to answer the question.
"He's asking me a question that is irrelevant," said Mrs Major, adding that she didn't "understand why he's asking me that."
When cautioned again by the judge and asked for the previous question to be repeated, Major said "no."
When excused from the witness stand, Mrs Major passed the prisoner's dock but not before exclaiming to Neely that he'll "go to hell!"
Justice Turner advised the jury to disregard any evidence that did not arise from the witness box.
The trial resumes today.