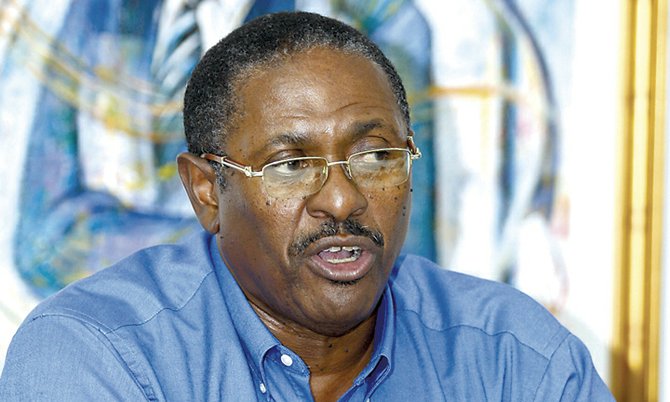 PLP Chairman Bradley Roberts has shot back at former Deputy Prime Minister Brent Symonette for his recent criticism of the government, calling the former St Anne's MP "confused and intellectually dishonest" about his party's last term in office.
Mr Roberts defended the Christie administration's record while outlining FNM policies that he said still have "ill effects" on the country.
"The record will show that during our last term in office, the PLP government was able to overcome the reckless spending, borrowing and mismanagement by the FNM and grew public revenue by 51 per cent, added more than $1 billion to the economy and recorded a budget surplus in just five short years," Mr Roberts said. "Those are the facts.
"In our current term, the PLP government is projected to add some $600 million to the Bahamian economy after inheriting an economy that the FNM admitted was sick and 'in a wheel chair' as a result of their excessive borrowing, spending and general incompetence. In 30 short months the PLP has successfully cut the deficit in half and by some $160 million in the current fiscal year."
He added that under the last administration, the economy contracted and the national debt ballooned by 40 per cent in five years.
"I daresay that had it not been for the waste of the FNM, the urgent implementation of VAT to save this economy would not have been necessary."
His comments were in response to statements Mr Symonette made to The Tribune this week.
Among other things, the former minister of foreign affairs and immigration said the government could not be trusted with VAT revenues.
Mr Symonette, who left frontline politics in 2012, also said breaking his retirement is not off the table as the country's "economic and social wellbeing continues to suffer" under the Christie administration. He added that he was "incredibly concerned" about the state of the country.
However, Mr Roberts took issue with these statements and accused the former MP of being caught up in conflicts of interest during his time in public office. It is a claim the PLP repeatedly made while Mr Symonette was last in office and is something the former St Anne's MP has strongly denied.
"So the last party to talk about trust with the people's money is the FNM and of all people, Brent Symonette," Mr Roberts said. "There is absolutely no nexus between the drivel of Brent Symonette and reality, the facts and the empirical data surrounding the fiscal stewardship of the PLP government. Brent suffers from diarrhoea of the mouth and should keep quiet if he knows what is good for him."