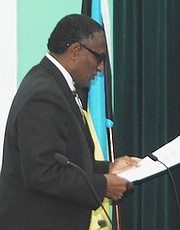 THE mother of the teenaged accused at the centre of the V Alfred Gray judicial interference allegations has revealed that she reached out to the embattled MICAL MP for assistance because her son was denied medical attention for an injury he allegedly received at the hands of police.
The boy, 19-year-old Jacquan Charlton, and his mother Natasha Charlton have now retained lawyer Christina Galanos. They are claiming the teen is a victim of police brutality who did not receive a fair trial.
"The mother reached out to Alfred Gray and asked for assistance in getting medical treatment," Ms Galanos told The Tribune yesterday. "After his arrest he was injured and they were (allegedly) denying him medical treatment so she went to him for that."
Ms Galanos added: "The manner of the trial was very unfair. I don't want to give too much detail but the way he was treated, it was not a proper trial, it was very swift and he did not have an opportunity to speak."
The Mayaguana resident was reportedly charged earlier this month with resisting arrest, disorderly behaviour, foul language and an assault of a police officer.
Mr Gray has been under fire since the Free National Movement accused him of abusing his power after he contacted the Mayaguana island administrator last week to offer what Mr Gray has called "legal advice" regarding the young man. Although Mr Gray has confirmed that he did contact the island administrator, Zephaniah Newbold, he has strongly denied that he in any way attempted to sway the course of justice. He has said he understands the administrator released the teen on bail because an appeal was launched against his conviction.
Meanwhile, Ms Charlton yesterday told the media that she contacted Mr Gray in the best interest of her son.

"I reached out to my MP, not the boss of Zephaniah Newbold, just so that my son would be able to get the medical attention that he needs. I called him and this was after I had written a letter of appeal on his behalf," she told a reporter.
"I must say I am grateful and knowing the minister, for such injustice, he would have done it for anyone."
Meanwhile, Ms Galanos told The Tribune she is happy her client was released, but could not speak to the circumstances surrounding the incident.
"I am happy that what was happening to Jacquan Charlton came to an end. (But) I don't know what Mr Gray did . . .so I cannot speak to whether what Mr Gray did was wrong," the lawyer said. "Based upon what my clients are telling me, I am happy that what was happening to him came to an end."
The FNM has claimed that following a phone conversation between Mr Gray and Mr Newbold, the latter granted the release of Mr Charlton, who he had convicted just days earlier. Mr Newbold is a local magistrate.
Yesterday in the House of Assembly Prime Minister Perry Christie revealed that Mr Gray has been relieved of his local government portfolio in light of a police investigation recently launched into the matter.
Ms Galanos told The Tribune that the situation is an "unusual" one that is being overshadowed by the political aspect of the case.
She said to her knowledge, her client had not yet been contacted by police in connection with the allegations. She said she plans to write a letter to the island administrator in an attempt to get a sense of what happened regarding her client's trial, conviction and subsequent release.
"I'm going to start writing the letters, that should be done this week," she said.