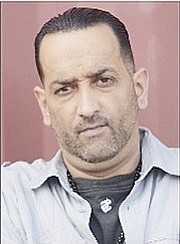 ONE-ON-ONE WITH THE NAUGHTY ONE
THIS week's question comes from Tribune reader, KISS96fm listener and avid sports fan Carlon Neily.
Q: Rumours are swirling the Golden State Warriors are interested in Kevin Durant. Do you think it's a good fit and how do you think it would work?
A: Good question Carlon. The long and the short of it is, there is never a guarantee when it comes to chemistry. With Durant in the lineup with Seth Curry and Clay Thompson, defensively the team suffers.
Offensively there aren't enough basketballs to go around. Anything is possible but, no, I don't think it will work. Clay or Seth will have to be moved to accommodate it and they seem to be untouchable.
Email your sports
questions to naughty@
By Inigo 'Naughty' Zenicazelaya
WHAT a busy weekend it was in the world of sports, locally and internationally.
Let's start at home. Hats off to the organisers and sponsors of this year's IAAF World Relays and congratulations to our athletes on outstanding performances, whether winning medals or not.
Personal bests were achieved and we got a glimpse of the "new era" of track and field in the country with several superstars, male and female, on the horizon. Team Bahamas has a 'golden' future in the sport.
We, the Bahamas, also have a major opportunity in the form of sports tourism moving forward to host the IAAF World Relays on an biennial basis. We have already been given the next event in 2017.
We have proven we can can put out a successful product and then build upon it positively to create an even more impressive one.
Yes, there are a few small kinks still to be worked out, but they are minor.
So overall I'm very proud of the Bahamas on this one, and hope to see it here as a permanent fixture as soon as possible.
To all the relative ministries and ministers and all involved with the entire event - job well done. You made us proud to be Bahamian.
#MAYPAC - the epitaph
As far as the much hyped, highly anticipated "Super Fight" between Floyd "Money" Mayweather and Manny Pacquiao ... I TOLD YOU SO!
Just like I called it last week in SMM, Mayweather by unanimous decision. By gosh, 10 rounds to two is pretty unanimous to me.
Now for those who watched a different fight, who claimed the judges were blind, that Mayweather ran?! Or who have now started believing that post-fight mumbo jumbo from Pacquiao's camp, that his shoulder was injured three weeks ago during training and he had an MRI and yadda, yadda, yadda.
Individuals like my Tribune colleague and sensational artist (but obviously no boxing expert) Jamaal Rolle. How can you say Mayweather ran, Jamal?
Boxing is called the 'Sweet Science' for a reason. It's the art of keeping your head and body moving to avoid contact from your opponent, all while trying to land your offensive blows.
So last time I checked, dancing, sticking and moving, darting, ducking, bobbing and weaving along with counterpunching are integral parts of the 'Sweet Science' known as boxing.
As "Money" allegedly ran, he amassed 149 punches landed via CompuBox tallies to Manny's 81.
The numbers don't lie Jamaal. Maybe Pacquiao should have ran too. He may have fared better. (I expect retaliation any day now in The Tribune. Just make me look good, Jamaal).
Now as far as my Filipino friends throughout New Providence, who I encounter en mass on a regular basis at Sacred Heart or local eateries, where have you all gone?
I haven't seen hide nor hair of you since late Saturday night. (Thanks to Phil and the crew at Sharkeez, my wife and I enjoyed the fight and the libations! Respect). There have been no reports of recent immigration raids ... you all still mourning Manny?
Please get over it. Manny has. He's too busy counting 40 per cent of $500m.
You should have known your hero was done pre-fight as he took "Selfies" like a Kardashian. His mind was elsewhere and after four rounds so was his heart.
I feel your pain, my Filipino friends. I had to endure the agony of a young Terry Norris pounding my childhood hero, Sugar Ray Leonard, into retirement. It's time for Manny to leave boxing, while he's still on top in his own right.
It's no slouch being the only eight division champion ever! He can now focus on playing point guard for the team in the Philippines which he happens to own.
As far as Floyd "Money" Mayweather goes I don't want to jinx it, one win away from Rocky Marciano's 49-0 and perfection!
And again I TOLD YOU SO!!
NFL Draft recap
Nicely done Dolphins, you didn't screw this one up!
For the first time in a long time, even though it irks me to do it, I give you credit (when you deserve it.) You deserve it, you picked well, good, solid choices all the way around.
It won't translate into anything special. The Dolphins will be their usual portrait of mediocrity, 9-7 at best!
Now for my Bahama Cowboys. Don't worry about us not taking a running back, Jerry and the boys stood back and picked for needs and value. Rod Marinelli's defence just got some nice new weapons to add to the arsenal. Cornerback Byron Jones - great pick in my opinion.
I endorse the controversial pick of freakishly talented Nebraska DE Randy Gregory. The reward outweighs the risk in this case.
Gregory was a top 10 prospect until a failed drug test derailed his career momentarily, causing him to plummet to the 60th pick in the draft. Gregory has been humbled, he seems focused and re-dedicated to the sport. Not to mention the chip on his shoulder and the money he lost free falling in the Draft.
This is the steal of the draft. The Cowboys will ensure the young, talented Gregory has the proper support team around him so he's successful on and off the field. I can't wait to see the names Gregory, Hardy and Lawrence along the Cowboys defensive line. Opposing QB's beware.
Another champ goes down
Amid much controversy and suspect officiating the defending champions, San Antonio Spurs, were unceremoniously ousted from the NBA playoffs.
As a Laker for life, I'm glad Duncan will not get one more than Kobe. As a husband, I feel for my wife.
I know of no other bigger Spurs fan, so I know that look of disgust. I usually see it when the Lakers have defeated the Spurs in the playoffs and I'm snickering holding in my laugh as I head for the sofa to begin my banishment.
This is uncharted territory: usually my Lakers and I are the reason for her angst.
The Spurs' exit from the playoffs, especially in the manner they did, coupled with ageing stars Tim Duncan, Manu Ginobili and Tony Parker at a crossroads in their careers, makes this pill a little harder for Spurs loyalists to swallow.
The "Camelot" in San Antonio seems to be crumbling and the more I type on this the more my sofa beckons. However, enough on this subject.
I'm off to talk the Preakness Stakes with my Aunt Kay. She gave me a good tip with American Pharaoh on the Kentucky Derby (which I thoroughly enjoyed watching with her). Hopefully he can pull it off in two weeks and, who knows, we may have our first Triple Crown winner in decades.
Until next week keep swinging a big stick and may all your balls land in play.
• Naughty presents 'Mischief and Mayhem in da AM' on KISS FM 96.1 from 6am to 10am, Monday to Friday. Comments to naughty@tribunemedia.net