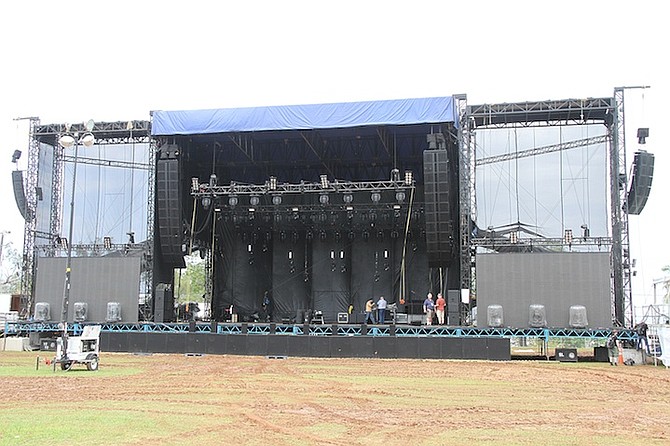 By RICARDO WELLS
Tribune Staff Reporter
rwells@tribunemedia.net
EXECUTIVES of the Bahamas National Festival Commission are confident that the proposed Cultural Village and other event sites will be completely ready in time for the start of the inaugural Bahamas Junkanoo Carnival Festival.
Ed Fields, a BNFC official, said the group is "deep in the throes" of getting the West Bay Street, Arawak Cay and Fort Charlotte sites prepared for individual events, set to get underway later today.
"It's going to be wonderful. We have three stages, a Rake n' Scrape stage, a Junkanoo Village stage and 'Bahamia' stage where we will have a number of events going throughout the weekend," said Mr Fields.
He added that some events scheduled for this weekend will occur simultaneously, however, Mr Fields offered his assurance that each event will feature unique Bahamian cultural aspects delivered perfectly.
"(There will be) lovely art, foods and the traditional Bahamian fair, so this is going to be a wonderful experience for everyone."
Junkanoo Carnival will feature four separate events aligned over three days: Junka-Mania; the finale of the Music Masters song competition; Midnight Rush and Road Fever.
BNFC announced earlier this week that due to ongoing festival events there will be a number of road closures throughout the weekend around the Cultural Village site.
According to BNFC, all roads in the immediate area of the carnival site – West Bay Street between Nassau Street and Chippingham Road - will stay open to traffic flow up until 6pm on Friday.
Mr Fields said that at that time, all traffic commuting into that area will be diverted from West Bay Street on to Chippingham Road and then onto Infant View Road.
"If you are not coming to carnival, stay out of the area. You can take the Independence Highway if you want to traverse east to west because there are going to be times when the road is shut down," warned Mr Fields.
Also, for Saturday's Road Fever event, the BNFC announced that there will be road closures starting at the Thomas A Robinson Stadium south toward the Bahamas Games Roundabout; the section of Bethel Avenue heading north to the six-legged roundabout; Thompson Boulevard from the six-legged roundabout; to Nassau Street and then north into the Cultural Village.
Those road closures will take effect on Saturday, May 9, at 10am until 8pm.
Road Fever will feature 28 local groups or bands, all of which are locally owned and operated.
The Road Fever event will feature a competition aspect; awards will be given to the group that displays the best application of indigenous material and the best section costume; both of which will be prejudged before hand.
An award also will be presented for the best overall group.
Judging for the best overall group will be done on site, with all tallies to be independently confirmed by accounting firm Baker Tilly Gomez.
The inaugural Junkanoo Carnival got underway in Grand Bahama with the Music Masters semi-finals on April 17-18.