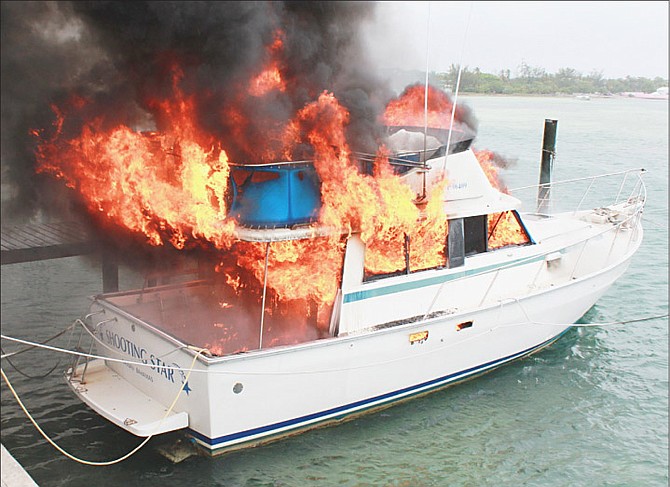 By DAVID CHAPPELL
Tribune Staff Reporter
dchappell@tribunemedia.net
A BURNING boat sent flames shooting into the air and plumes of billowing, black smoke across Montagu Bay yesterday afternoon as firefighters tackled the blaze and the owner looked on helplessly.
Shooting Star, a 34-foot Mainship trawler, was destroyed in the raging fire and part of the wooden dock at the Dick's Point Close community off Eastern Road was damaged.
Richard Kimble, the owner of the boat, tried to tackle the blaze – which started around 1pm – with a fire extinguisher but said the heat was "unbearable" and had to leave three firefighters to douse the fire.
They spent more than two hours spraying water as the fibreglass hull smouldered and melted, throwing off thick, acrid smoke.
Mr Kimble said he thought the cause of the fire had been an electrical short from a battery charger.
"There was a lot of water in the bilge when I came down this morning and normally that would have been pumped automatically," he said.
"But the battery had gone flat so I put it on the charger. The charger must have had to work very hard and probably shorted out. It must have overheated and then caught fire."
Residents reported a number of small explosions as the fibreglass boat blazed and burnt down to a shell and said the fire had been very loud. No one was injured.
"The heat and flames kept us back," Mr Kimble, the Property Manager at Dick's Point Close, said. "The flybridge went up first and we all watched in horror as the flames took hold. There was a small propane gas tank on the flybridge so I had to be sensible in case that went up. The flames were shooting right up, some of the palm tree leaves are singed."
Mr Kimble had owned the boat – which was built in 1979 - for the last 20 years. He told The Tribune he had been trying to sell the boat for several years and estimated it was worth up to $25,000. He said it was not insured and joked that "that problem has been solved now". He said the rising cost of marine insurance premiums had put him off insuring it.
Mr Kimble said that he used Shooting Star for pleasure. "We used to go over to Exuma and others," he said. "She was very comfy and had a generator and air conditioning." A collector of boats, he said that as the loss of Shooting Star had sunk in he felt "empty".
Royal Bahamas Defence Force and Bahamas Air Sea Rescue Association operatives helped with towing the boat away from the dock, which had been sprayed constantly with water to prevent further heat and smoke damage.
But Mr Kimble said the boat began wallowing and, as it was in danger of sinking and deemed a potential hazard to navigation, had to be beached east of the Nassau Sailing Club, close to two other wrecks off Montagu foreshore.
"Now all the action is over I'm feeling really depressed," Mr Kimble said. "One just hates to see a lovely old boat go like that."