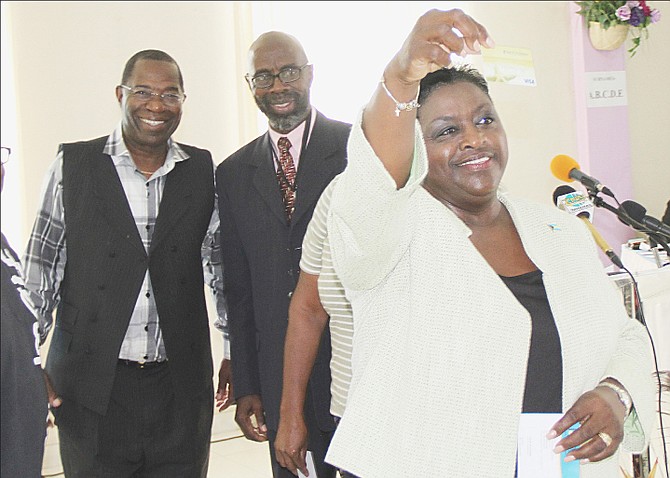 By RICARDO WELLS
Tribune Staff Reporter
rwells@tribunemendia.net
MORE than 4,000 residents of New Providence are now part of the Department of Social Services' modernised food assistance programme.
Officials announced yesterday the approval of an extra 1,501 clients from the Horseshoe Drive Centre to the programme, joining 780 clients registered at the Wulff Road Centre, 874 at the Fox Hill Centre and 1,660 at the Robinson Road Centre, bringing the total to 4,365 in possession of the new pre-paid debit card.
Social Services Minister Melanie Griffin said that although the new pre-paid cards do not resolve all of the issues and problems that exist in the department's food programme, they allow "clients that are truly in need the ability to shop and purchase needed food items with ease and comfort".
Mrs Griffin explained that the cards provide users with the ability to not only to limit their contact with centres, but gives them more freedom by allowing them to determine how much they spend in one location and the ability to shop at different establishments in one payment period.
According to the Yamacraw representative, all three are features not allowed by the previous voucher system operated by the department.
"It was a long, hard road getting to this point but with the addition of each centre, we gained more experience and improved the processes involved," said Mrs Griffin.
She added: "We now turn our efforts to the introduction of the card in Grand Bahama and the Family Islands as we intend for this payment method to be utilised throughout the Bahamas."
Officials from the department indicated that the implementation process is already under way in Grand Bahama with people registered for assistance now being reassessed.
The department suggested that the new cards would first be issued at the Eight Mile Rock Centre and then throughout Freeport.
In November, officials introduced the new debit card in conjunction with Bank of The Bahamas (BOB).
It is designed to curb abuse of the food coupon system, and is seen as a key reform to how the government distributes aid to poor Bahamians.
Mrs Griffin said last year that the card was one feature of wide-ranging upgrades to the Bahamas' social safety net, a programme being financed with $7.5m from the Inter-American Development Bank (IDB).
In January, the government had approved a five per cent increase in the Department of Social Services' food assistance budget to counteract the impact of VAT on the poor.
Last June, the Department of Statistics said that since 2001, poverty levels in The Bahamas have risen by 3.5 per cent, while more than 40,000 people in the country live below the poverty line – defined as an annual income of less than $5,000 a year.