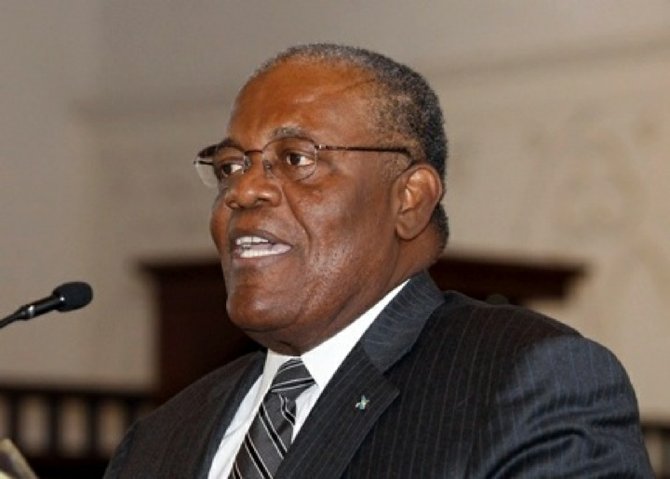 By TANEKA THOMPSON
Tribune News Editor
tmthompson@tribunemedia.net
FORMER Deputy Prime Minister Frank Watson said he does not believe that Hubert Ingraham plans to leave retirement and wrest the leadership of the Free National Movement from current leader Dr Hubert Minnis.
Mr Watson told The Tribune that persistent rumours that the former prime minister is eyeing a stealthy political comeback are fueled by ardent supporters of Mr Ingraham and also those in the Progressive Liberal Party who want to make the current leadership "insecure."
He added that the Free National Movement (FNM) must focus on "new leadership," something he said the country wants.
Mr Watson served as deputy prime minister in a previous Ingraham administration and is a friend of the former prime minister.
Despite Mr Ingraham's withdrawal from the political arena, there is a big faction within the official opposition that is pushing for him to make another election bid.
"They want him to come back, that's the only reason (for the rumours), they want him to come back but no, I don't think he is coming," Mr Watson told The Tribune. "The last time I spoke to him, he wasn't even thinking about it."
"There are always people who want Mr Ingraham back," he added. "They like his style of governing and so they would like to see him back, but I think he has done as much as he wants to do."
Instead of turning to the past, Mr Watson said: "I think we have to go with a new leader this time. I don't think we have much choice, I think the country wants new leadership."
He added that the unrelenting speculation over Mr Ingraham's political future is partly fuelled by mischievous members of the PLP.
"They'll be muddying the water and trying to make the leader (Dr Minnis) insecure. To my knowledge, there is no truth to it."
Last week, Mr Watson grabbed headlines after he told The Nassau Guardian that the opposition is not yet ready for the next general election. At the time, he also suggested that Dr Minnis was not a fully formed leader and is a "work in progress." Mr Watson also said that Dr Minnis had not been receptive to the advise of senior members of the FNM.
When asked if he and Dr Minnis have spoken since his public critique of the Killarney MP, Mr Watson said: "We're talking."
He did not say how Dr Minnis responded to his harsh words.
"We really didn't go into that so much, we talked about how we could make the party more effective."
However, Mr Watson said since publicly airing his views on Dr Minnis' leadership style, the former health minister has been more open to recommendations from seasoned politicians.
"Not only me, I think he is more receptive to people with a little more political acumen, people who have been in the trenches and have experience. I think so."
On Wednesday, Prime Minister Perry Christie delivered his anticipated 2015/2016 Budget Communication, which was unveiled under the theme "Building a Stronger Bahamas". That same day the government launched a new website to facilitate national discussion on pertinent issues and highlight the work of the Christie administration.
Some observers, including Mr Watson, see this as the groundwork for the PLP's 2017 general election campaign.
In order to have a fighting chance against the heavy artillery of an incumbent government in an election battle, Mr Watson said the official opposition must work together.
"What the FNM has to do, and is now trying to do, is to build a cohesive organisation, get all the FNMs on board and working and go out and meet the people," he said.
Mr Ingraham retired from politics shortly after his party lost the 2012 general election. However since then, there has been repeated speculation that he plans to return as leader of the party, with some expecting him to mirror a move he made in 2005 when he seized the reins of the FNM from then-leader Tommy Turnquest.