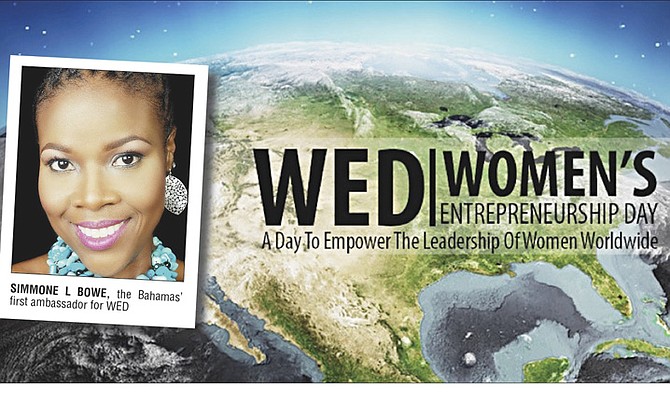 By ALESHA CADET
Tribune Features Reporter
acadet@tribunemedia.net
THIS Thursday is being celebrated worldwide as Women's Entrepreneurship Day (WED) and global ambassadors are planning events that will be of unique benefit to the women in their respective countries.
In order to advance the movement globally, women on every continent have been selected as country ambassadors.
According to www.womenseday.org, these WED World Ambassadors are the world's leading women entrepreneurs and innovators, facilitating change by empowering their communities and countries.
Here in the Bahamas, transition strategist Simmone L Bowe was chosen as the country's first ambassador for the WED movement.
Ms Bowe and a group of like-minded individuals will come together at the Meliá Nassau Beach Resort to observe this special day by hosting the Women's Entrepreneurship Symposium. It will feature women entrepreneurs and leaders from New Providence, Abaco, and Bahamians based in the United States.
The event, being held from 5.30pm to 9.30pm, will highlight areas of interest and concern for the female, and male, entrepreneurs.
Opportunities and challenges of doing business in the Bahamas, doing business abroad, women innovating in non-traditional fields, and the power of working together are all subjects that will be discussed.
A special segment of the symposium will be a live pitch of business ideas to the audience and a panel of judges by five young women that entered and placed as finalists in the "Inspire Her Entrepreneurship" competition sponsored by Junior Achievement Bahamas in collaboration with CITI.
Chosen for their unique focus on specific topics, the speakers will include Daphne DeGregory Miaoulis representing Abaco Neem; Lia Head Rigby and Gina Knowles of HeadKnowles; Africa Allah of DiRadioCast; radio host Cyndi Williams Rahming; attorney and coach Melisa Hall; CPA and speaker Sherika Brown; communications coach Michelle Miller; life coach Kaylus Adams, and personal development and life coach Stanya Davis.
"This is the first time the symposium is being held and the excitement of the women and men who own or want to own businesses has been phenomenal," Ms Bowe said, "which shows an upsurge of people who want to monetise their passion and have personal freedom."
She said the inspiration to host a symposium as opposed to another style event was due to the fact that it is sometimes challenging finding information, resources and support for people who want to start or expand a business, and a symposium is a great way to provide that access as well as an opportunity to connect and collaborate.
"This event is important because our economy is struggling, our employment landscape is challenging for many displaced workers to replace their jobs, and this can offer practical ways for people to pursue their dreams of entrepreneurship through the experiences of others that have tried, failed and succeeded," she said. "This is beneficial to Bahamian women because it will afford them not only a chance to interact with like-minded, progressive women and men, but also to expose them to current global standards that should inspire them to try more, do more, and achieve more for themselves in radical ways."
Overall, she said, the goal is to meet the aim of Women's Entrepreneurship Day – to empower, support, celebrate and inspire women entrepreneurs and those who want to be.

Additionally, she is inviting men to come out as well and be a part because the information is not gender specific and anyone in business can appreciate the format of the upcoming symposium.
"This event excites me because it is historic for the Bahamas to participate in this global movement. It will bring women and men together who are visionary, passionate and driven to achieve their dreams. It will bring a positive energy and fresh wind of hope and enthusiasm at a time when many feel hopeless, discouraged, confused, angry and frustrated," Ms Bowe said.
"My desire is that we will inspire attendees to be resilient, strategic and resourceful in starting and advancing their businesses, no matter the size or scope."
Going forward, Ms Bowe said she wants to highlight the Women Innovators in the Caribbean's Acceleration Programme, an eight-month mentorship and training initiative. This programme is being funded by the government of Canada and implemented by infoDev and the World Bank Group beginning early 2016. Ms Bowe said this is another opportunity Bahamian women should take advantage of to receive comprehensive training on successfully operating and expanding their businesses. She will also stand as the country's certified facilitator for the programme that will be run in 12 countries across the region.
On December 2, a digital campaign of WED will take place on a global scale and there will be another push online to bring focus to and celebrate women-owned businesses and causes. Locally, there will be a meet, greet and tweet mixer and reception held at Sapodilla Estate – which is also a woman-owned business – at which time women entrepreneurs and leaders will be honoured.
"In the future I would like to see the symposium as an annual and national event that can attract women from our Family Islands to attend or to even have their own local celebrations of women owned businesses and causes," said Ms Bowe.

"As this is a purely voluntary and non-profit venture, I can personally think of women on Family Islands who would have benefited from this forum and who deserve honour. It is hoped that people will come on board as sponsors, donors and exhibitors to help us defray the costs and expand the vision."