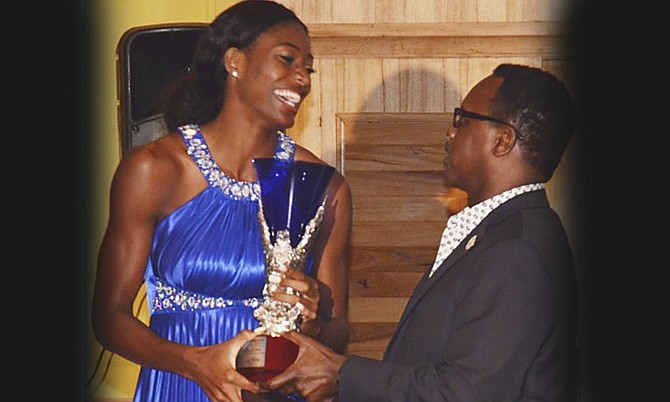 By BRENT STUBBS
Senior Sports Reporter
bstubbs@tribunemedia.net
SHAUNAE Miller, draped this year with a silver medal in the women's 400 metres at the 15th IAAF World Championships, was crowned with the Prime Minister Award for National Pride as she received the overall Athlete of the Year honours.
The presentation was done Friday night at the Ministry of Youth, Sports and Culture's inaugural Bahamas National Sports Awards 2015 at the Atlantis Crown Ballroom on Paradise Island.
Also selected as the Female Athlete of the Year, Miller beat some talented athletes such as pro swimmer Arianna Vanderpool-Wallace, pro boxer Tureano 'Reno' Johnson and hurdler Jeffery Gibson.
"Oh my gosh, it's an amazing feeling. I just thank God so much for all of the opportunities," Miller said. "To be chosen among so many great athletes that we have in the Bahamas, it's an honour and I just thank God for it."     
Miller, who established a new national record in the 200 metres in 22.14 seconds and became only the third Bahamian to run under the 50-second barrier with her personal best of 49.67 to secure the silver at the Beijing World Championships, said she thought the performances she achieved were fantastic, but she was overwhelmed by what she heard of Johnson and his successes in the ring.
"I've always stressed that we have so much talent here in the Bahamas and so it's great to see how many titles Johnson has won," she said. "I was really impressed."
Johnson, 31, won the vacant WBA International and WBC silver middleweight titles with his fifth round victory over Alex Theran in Madison Square Garden, New York on January 9. He came back at the same venue on October 17 to win an unanimous 12-round decision over Eamonn O'Kane in the elimination bout for a shot at a world title next year. For his efforts, Johnson was named the Most Outstanding Male Athlete of the Year.
"It's an honour and a privilege. This isn't about me. We're actually teaching or young men and women, the future generation to come, about the history that is taking place before my time," he said. "So this is not just for Tureano, but it's for the young ones coming up and to let them know that we are appreciated in the Bahamas and that is much reward that is given to us for our accomplishments."
As for the honour, Johnson said he would like to "take on Jeffery in the ring" because he didn't realise how tight the decision was.
"I thought I broke a lot of jaws and set records, but Jeffery's national breaking records made it tough," Johnson said. "I guess next year, instead of breaking jaws, I need to be breaking limbs. But it's definitely an honour to be here among these high profile athletes. They are well deserving of the recognition and I'm just glad to be here and to be honoured in this fashion. Look for bigger and better things from me next year."
Gibson, 24, broke his men's national 400m hurdles record four times en route to winning the gold at the Pan American Games in Toronto, Canada in July and getting a bronze at the Beijing World Championships in August. Despite settling for the silver behind Johnson in the overall voting for the top spot in the men's ballot, Gibson said he was still pleased with his performances this year.
"I feel honoured that I was selected among all of the different athletes at an event like this," Gibson said. "So it just shows that if you do bigger and better things, bigger and better rewards come to you. So I will definitely try to do better than I did this year."
Notwithstanding what happened, Gibson said he felt Gibson deserved the honour because "greatness is greatness" and "I want to commend him for all the hard work that he put in and the success that he achieved."
There was no surprise with the Rising Star Athlete of the Year. That went to 19-year-old Steven Gardiner from Moores Island. He literally took the men's 400m by storm and not only became the seventh Bahamian to dip under the 45-second barrier, but he erased veteran Chris 'Fireman' Brown's national record in the process.
"It's my first year as a senior, so I think I did pretty good. I had a pretty good season, but this will only inspire me to work even harder for next season," said Gardiner, who fell short in advancing in his debut at the Beijing World Championships. It was just a great feeling and I'm looking forward to next year."
Special Olympics carted home the Minister of Sports Award after they went to Los Angeles and returned home with 11 gold medals in their tally.
"It was definitely a big honour for us. A lot of times we don't know or we don't realise that people are paying attention to Special Olympics," said head coach Gilbert Williams. "So we feel that something like this was a long time coming and we definitely feel appreciated."
Williams said the good thing about Special Olympics was the fact that the athletes are motivated every time they come to train and compete.
Another athlete who also came motivated to compete this year was Leevan 'Superman' Sands, who was awarded the National Award for Courage. It was revealed by organiser Adrian Francis that the award will become a permanent one and will be held in honour of Sands, who gave an emotional acceptance speech.
"I feel great about it, especially that they are now going to continue it each year," Sands said. "I think it's great. It's a great incentive for the younger athletes who follow my career and my road to recovery. A lot of them are going through injuries and a lot of people are telling them that they can't make it and that they can't be the best. With them seeing me going through what I went through, it's an amazing thing."
Sands, who was also told by Minister Johnson that he will receive his cheque this week for making the final of the men's triple jump in Beijing, had the comeback performance of the year after he made his return from a near career ending injury on his knee at the Olympic Games in London, England, in 2014.
St Augusrtine's College was also a big winner as their Big Red Machine packed two trophies in their bus, including the National Secondary Athletic School of the Year.
However, the biggest winners of the night was the Bahamas Swimming Federation. First, president Algernon Cargill was named the federation president of the Year, the federation collected the Federation of the Year honours, Andy Loviett from Grand Bahama was named the Coach of the Year in leading the back-to-back championship performance from the CARIFTA team and collegian Joanna Evans, winner of seven gold medals and three national records set at CARIFTA, was named the Junior Female Athlete of the Year.
IAAF councilwoman Pauline Davis-Thompson lauded the Ministry and Francis for putting together the night.
"Our sports are so fragmented, so it's good that we can all come together and rub shoulders with each other," she stated. "The process to become great is in all of us, so there is a level of respect for each other. So it's great to see all of the athletes, especially Special Olympics, and I hope that we can continue to put on an event like this."
Although they were faced with their obstacles, Francis said they got the job done.
"I think for the most part, we wanted to bring all of the top athletes together in one spot," he said. "We were not able to bring Chris Brown to town, but I think it went very well and will continue to be on the Ministry's Sports Heritage Month when we bring all of the old and the new together."
HERE'S a look at the winners of the Ministry of Youth, Sports and Culture's inaugural Bahamas National Sports Awards Ceremony, held at the Atlantis resort Saturday night:
Prime Minister Award for National Pride and overall Athlete of the Year -
Shaunae Miller (athletics)
Minister of Sports Award - Special Olympics
Olympic Committee Award - Arianna Vanderpool-Wallace (swimming)
Tourism Impact Award - Sunshine Insurance Marathon Bahamas
National Coach of the Year - Andy Loveitt (swimming)
Male Collegiate Athlete of the year - Chavano 'Buddy' Hield (basketball)
Female Collegiate Athlete of the Year - Jonquel Jones (basketball)
Overall Junior Male Athlete of the Year - LaQuan Nairn (athletics)
Overall Junior Female Athlete of the Year - Joanna Evans (swimming)
Overall Senior Male Athlete of the Year - Tureano 'Reno' Johnson (boxing)
Overall Senior Female Athlete of the Year - Shaunae Miller (athletics)
Rising Star Award - Stephen Gardiner (athletics)
National Secondary Athletic School of the Year - St Augustine's College
National Team of the Year - Swimming
Family Island Senior High School - Bishop Michael Eldon (Grand Bahama)
Phil Smith Award for Sports Journalism - Fred Sturrup (Nassau Guardian)
Corporate Sponsor of the Year - BTC
National Award for Courage - Leevan 'Superman' Sands
Brand Sponsor of the Year - Infrasoft Tech (from India)
Federation of the Year - Bahamas Swimming Federation
Federation President of the Year - Algernon Cargill (swimming)
Craig Flowers Award for Patriotism - Craig Flowers