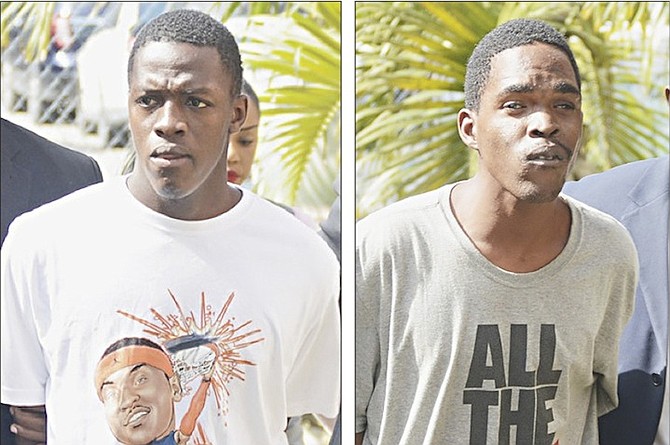 By LAMECH JOHNSON
Tribune Staff Reporter
ljohnson@tribunemedia.net
A 17-year-old boy previously enrolled in alternative education programme for disruptive and challenged students appeared before a magistrate yesterday accused of having a role in three recent murders including that of an elementary school teacher and an autistic man.
The minor, who cannot be named for legal reasons, stood before Chief Magistrate Joyann Ferguson-Pratt charged with the November 11 attempted armed robbery and murder of Joyelle McIntosh. The accused teen's mother could not stand for him because she was arraigned on charges of "child neglect" concerning her custody of him.
It is alleged that he, along with 21-year-old Armando Sargeant of Kemp Road and 25-year-old Johnny Mackey on Bonaby Alley, attempted to rob the Queen's College teacher, at gunpoint, of her 2009 silver Toyota Corolla worth $6,000.
It is alleged that during the failed carjacking, the victim was shot multiple times in her head and body. She later crashed into a wall at the intersection of Parkgate and Village Roads.
During the arraignment, Mackey mumbled a request to the chief magistrate who asked him to speak louder.
He then asked not to go to prison.
"It's gang related. I can't go anywhere in jail. I'll get kill in there," Mackey said.
"You are charged with a very serious offence, in fact the most serious on the books. I will bring this to the attention of the superintendent of prisons but placement of inmates is at his pleasure," the chief magistrate said.
Meanwhile, the minor alleged that he was brutalised in police custody, was suffocated with a "fish bag" to admit to things he did not do.
The two other accused men, Mackey and Sargeant, made similar claims.
In a second arraignment, the accused teen and Sargeant were charged with murder, attempted murder and armed robbery.
It is alleged that on November 11, the pair intentionally caused the death of Demyko Forbes in their attempt to kill Marcian Rolle, who they also robbed of cash and electronic items worth $435.
Forbes, understood to be autistic, and Rolle, were standing outside a residence in the Kemp Road area when they were shot several times by an unknown suspect or suspects.
Forbes died on the scene while Rolle was rushed to hospital. The incident happened the same night McIntosh was killed.
Both accused men said they were never made aware of the allegations when in police custody.
"Very well, thanks for bringing it to my attention. I've read the charges, you're now aware and the prosecution intends to proceed by voluntary bill of indictment," the judge said.
In a third arraignment, the minor was charged with the November 13 murder of Adrian Munroe in the Elizabeth Estates sub-division.
That evening, Munroe was sitting in a vehicle at Ghana Circle in Elizabeth Estates, when four men approached and shot him before fleeing on foot.
After reading the particulars of the charge to the accused, the chief magistrate asked him: "Are you a student in school?"
"No, ma'am," the boy said.
"You dropped out?" the chief magistrate asked.
"I'm in Programme SURE," the minor said, referring to a programme established to offer education to students who display extreme disruptive behaviour and are unable to function in a regular classroom.
The teen addressed the allegation against him, claiming that he was never informed by police that he was being charged with the offence.
The magistrate made a note of the complaint and informed him that all of his matters will be forwarded to the Supreme Court through the presentation of a Voluntary Bill of Indictment on January 21, 2016.
Before their remand to the Department of Correctional Services, Sargeant was also charged with the April 30 murder of Thiffon Johnson who was fatally shot in Whites Addition, in the Kemp Road area.