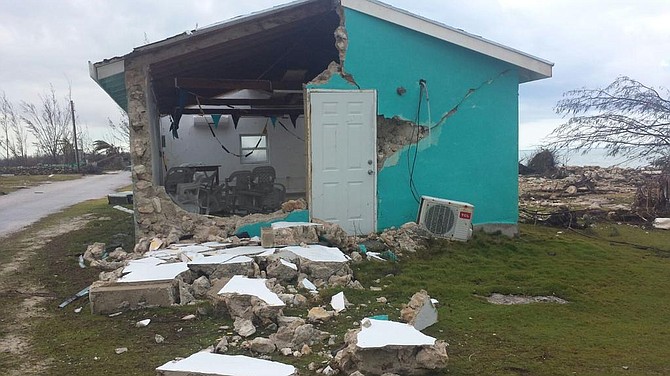 This is the lead story from today's print edition: For Hurricane Joaquin updates click HERE
By RASHAD ROLLE
Tribune Staff Reporter
rrolle@tribunemedia.net
IN THE aftermath of Hurricane Joaquin, residents of Crooked Island have been describing having to rip through sheetrock with their children in their hands, fighting to reach the ceiling of their home to escape chest high floods.
They told yesterday of escaping collapsing buildings in the middle of the storm, finding refuge in nearby vehicles that were hardly safer than the deteriorating structures they were escaping.
Some, like 48-year-old Steven Daxon, spoke merely of wanting medication to give his 82-year-old mother.
As recovery efforts continue following one of the most devastating storms in recent memory, many in the southern Bahamas are bracing themselves for what they expect to be a long road back to normality.
No fatalities have been associated with the category four hurricane, Commissioner Ellison Greenslade has said, but the damage to houses, business structures, cars and other personal belongings has been catastrophic, especially on Crooked Island and southern Long Island.
There was also widespread damage in Rum Cay, San Salvador and Acklins.
Prime Minister Perry Christie has said it will cost tens of millions of dollars to recover from the storm.
"The story is that only God was with us," said Samantha Knowles, of Cabbage Hill, Crooked Island. "When the storm came we were in the house and after the roof blew off, the water started rising quickly so we had to go into the closet. Then the water started rising in the closet, eventually to about 15 to 20 feet.
"Me, my babies, my husband and my brother were there and we had to go into the ceiling. We punched a hole inside the ceiling and then tore open the sheetrock and went up."
Her family spent six to seven hours in the closet before moving to their home's ceiling, where they stayed for an entire day without food or water, she said.
"Everybody came together afterward and went through bushes looking for food and through freezers and coolers looking for anything we could use to survive until help came," she added.
Another Crooked Island resident, Cynthia Williams, said she was staying in a house with six other people when the building began to collapse.
"About seven of us held hands and tried to get out because it was falling apart," she said. "We got out, got into a truck and tried to get into some rooms on the other side of the building. When we went to the buildings, we found that they were torn apart. People were in the bathrooms so we went back into the truck and waited it out for 16 hours. We had a couple packs of biscuits, but no one drank any water. My sister had to pee in a cup."
According to Mr Daxon, the grocery stores on the island were destroyed by the hurricane, leaving most people dependent on items that arrived hours later through relief efforts.
"No hotel room is available," he said, noting that the hotels - Tranquility Bay, Diamond and Angels and Bayfront Retreat - were all destroyed.
"In Crooked Island, we had a couple grocery stores. One store was totally destroyed. The other one, the main one, was underwater. They lost everything. They now throwing out food and trying to salvage can goods," Mr Daxon said.
Some residents blamed officials for not giving them sufficient warning about the severity of the hurricane, although they admit that little could have been done to prevent the damage caused by the category four storm.
One woman spoke of calling the National Emergency Management Agency (NEMA) during the early hours of the storm, only to be given the "run around" as no one was able to tell her how long the hurricane would last or how severe it would be.
"We didn't have no preparation," said Ms Knowles. "We didn't get no warning from anybody. Everybody worked until Wednesday evening, regular work. Nobody could batten up because no one had time."
The storm battered Crooked Island and other parts of the southern and central Bahamas on Thursday and Friday.
Once the storm passed, Ms Knowles said she and her family began sleeping at her husband's house.
"It's like 20 people in that house and it's not enough space," she said.
As for Ms Williams, she said she has spent the nights since the storm passed sleeping with her son in a nearby airplane hangar.
In Long Island, resident Dyllis Smith described Joaquin as a "monster" storm.
She spoke to reporters on Saturday, after a government delegation led by Prime Minister Perry Christie landed on the island.
"I have never experienced nothing like this before," she said, overcome with emotion. "What I went through, I said I do not want to go through this again. I was okay, I am fine because where I am living is on a hill and I am on a bunker, I was protected but I was worried about those persons I know wasn't in areas like how I am situated. And right now, I would not even put a wooden roof on my house, for what I have experienced.
"This storm was no joke and I do not take anything for granted. I came out of my house during the storm because I was concerned about the elderly people in my area, I took that chance because I didn't know what was happening to them and I know what state of some of those persons. I am not a part of local government but Long Island, these are my people and I will stand up for them.
"So I want you not to just come here today pay this visit and when you leave, (you) leave us abandoned. You better take care of Long Island because we are tired."
Amidst the chaos, one glimmer of hope has been what some have described as the quick and fulsome response of volunteers and people making donations, although relief efforts have been complicated by flooding and the collapse of passage ways which have made getting items to key areas difficult, according to relief co-ordinators.
The Tribune was able to visit Crooked Island and well as Rum Cay as part of a relief effort organised by Long Island MP Loretta Butler-Turner and Trans Island Airways which flew throughout the country over the weekend, carrying more than 20,000lbs of items like water, medication, gloves, clothes and food to people in need.