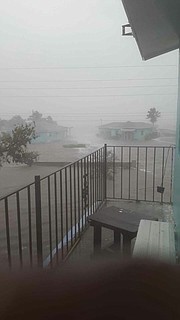 By KHRISNA VIRGIL
Tribune Staff Reporter
kvirgil@tribunemedia.net
ANITA Collie Pratt "cried out to God" and then prepared herself to die inside her home as Hurricane Joaquin relentlessly beat down on Acklins, leaving a path of destruction. And just as she had accepted this fate, Ms Pratt heard knocks on her door from three rescuers who had to wade through chest high water to remove her from the submerged home.
Ms Pratt, the island's deputy chief administrator, said 80 per cent of Acklins has been destroyed from the monster storm.
She spoke to The Tribune during an interview at the island's airport.
Several settlements remain inaccessible while others are without telephone service, which has made communication with the outside world virtually impossible.
The Tribune accompanied the leader of the Free National Movement Dr Hubert Minnis, FNM Deputy Leader Peter Turnquest, and party Chairman Michael Pintard on an assessment tour of the hard hit island. The group also visited Crooked Island and San Salvador.
Houses there have been completely destroyed with many residents saying they have not been able to salvage any of their belongings.
While some portions of the roads were ripped up by violent waves, other parts were completely covered in debris and boulders.
The island resembled a wasteland, with vegetation and shrubs damaged by seawater and Hurricane Joaquin's violent winds.
Ms Pratt said: "I put my hands on my door and I started to pray and I cried out to God to either save me or if I have to go this way I am ready to go.
"I started to pack some clothes and I moved everything off the counter to be able to get on the counter to put up a ladder to get into the manhole.
"After a while I didn't know what to do, I just got helpless and I realised that if no one came I would be left there.
"Then I heard knocking at the door and when I looked, there were three guys but the door couldn't open so I opened the back door and when I got out there the water was under my breast."
Another resident, Livingston Pratt, said his only escape from the severe flooding was to climb into the ceiling of his home where he stayed until he thought it was safe to come down. He said while most of his belongings were gone, he was still thankful to have made it out of the storm alive.
"When the hurricane came it happened really fast and the water was around my waist. The waves were so high the only thing I could do to try and beat it was to try and get in the roof," the carpenter said.
"I wasn't really scared but I was thinking that the waves were so high they would cause something to mash me into the building. Despite losing everything - all my clothes and documents - I am all right because I still have life."
In Crooked Island, three sisters with seven children between them recalled the horrors of having gone to a shelter during the storm, but ultimately having to leave that structure after its roof was torn off.
Shenell Roberts, 24, Tonya Roberts, 25, and 27-year-old Takeisha Delancy said at one point they were forced to swim through three settlements to find food and water for their small children.
Holding back tears, they said they risked being jailed after breaking into an unoccupied home to find shelter.
The sisters and their children were airlifted to New Providence last night to receive medical attention.
The slow moving storm churned through the central and southern Bahamas last Thursday and Friday. In addition to damage in Acklins and Crooked Island, the storm left widespread destruction in Long Island, Rum Cay and San Salvador.
However, effects from the hurricane were felt as early Wednesday night in some areas. Joaquin brought storm surges and winds of more than 100 miles per hour, damaging buildings and uprooting utility poles.
Prime Minister Perry Christie has said it will cost tens of millions to repair the damage. Volunteers, charities and government agencies have been distributing aid to the victims, however a widespread rebuilding effort has not yet begun.