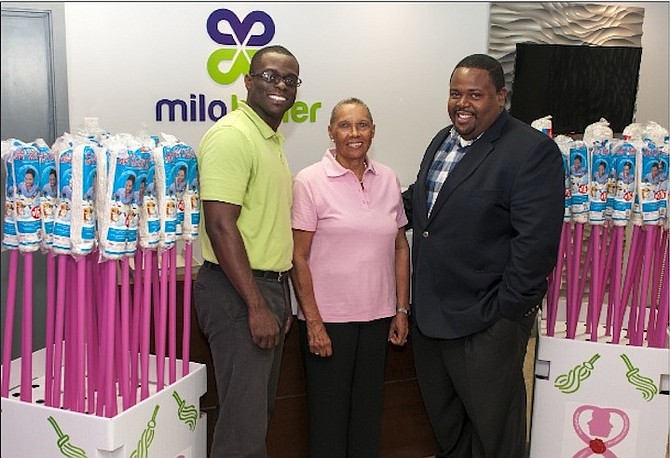 By JEFFARAH GIBSON
Tribune Features Writer
jgibson@tribunemedia.net
THE public's overwhelming support of the Sister Sister Breast Cancer Support Group will go a long way in assisting the organisation with purchasing port-a-cath devices for women who are currently fighting the disease.

A port-a-cath is used for patients who require frequent or continuous chemotherapy administration. On average, Sister Sister provides approximately six to eight ports per month at a cost of $550 each. On an annual basis the group gives more than 100 of them to women.
Andrea Sweeting, president of the Sister Sister group, said the support from members of general public and the corporate community help them to purchase the much needed port-a-caths on a consistent basis.
"The support has been truly awesome from the general public. I am truly elated that persons are now understanding and wanting to help," she told Tribune Woman.
Milo Butler is among many of corporate entities who have launched various initiatives to support Sister Sister and the breast cancer cause. This month, the wholesaler team up with major retailers to raise awareness and assist Sister Sister Breast Cancer by selling pink mops in select stores. The initiative is called Project Pink Mop.

"When were approached by Milo Butler for the Project Pink Mop I thought that it was a really good idea because every household needs a mop, which means everyone will be able to contribute in a small way to assist one woman within her community," Ms Sweeting said.
"So it really means a lot to know that corporate Bahamas is still working to assist and help us to keep women going. We are very happy about that."
More than 5,000 cases of pink Housekeeper brand mops have been distributed throughout the Bahamas. Consumers can purchase a mop and show their support to those battling breast cancer.
Kent Forbes, brand manager at Milo Butler, spearheaded the initiative. He coordinated with the international Housekeeper vendor to design the mops and displays, and liaised with local retailers to stock the items.
"There are more than 500 new cases of breast cancer diagnosed each year in the Bahamas. Project Pink Mop allows the community a chance to give back in a meaningful way. By purchasing a pink mop they help to assist Bahamians receiving treatment and during their recovery," Mr Forbes said.
Funds raised through Project Pink Mop will assist Sister Sister members with the cost of medicine, examinations and the purchase port-a cath devices for persons undergoing chemotherapy.
"We are pleased to support the work being done by Sister Sister as they step in to provide not only financial assistance but much-needed emotional support to their members," said Franklyn Butler, managing director at Milo Butler.
"We anticipate that this project will be successful and I would like to thank our retail partners for supporting us in this initiative and helping us to better the lives of Bahamians."
To make a purchase, look for the Project Pink Mop displays at Super Value, Solomon's in Nassau and Freeport, Kelly's Home Centre, Lowe's Pharmacy, Commonwealth Building Supplies, Budget Meats and select locations in Freeport, Eleuthera, Exuma and Abaco.
For more information on the Sister Sister Breast Cancer Support Group, visit www.sistersisterbahamas.com or call 242-326-1929 or 242-376-0054.