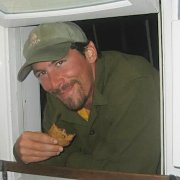 By LAMECH JOHNSON
Tribune Staff Reporter
ljohnson@tribunemedia.net
A HANDBAG believed to be a part of a crime scene stemming from the murder of an American sailor was found in a yard off east Shirley Street, a jury heard yesterday.
Detective Sergeant Lavardo Sherman testified that around 5pm on May 13, 2013, he had received information from a fellow detective believed to be relevant to the murder case of Kyle Bruner, who was shot a few feet away from the Paradise Island Bridge.
Bruner, an American sailor who had been working as first mate on the Liberty Chipper sailboat that was docked at Nassau at the time, was shot in the neck trying to help two women who were being mugged by two armed men early on a Sunday morning.
Leo Bethel, 21, Craig Johnson, 22, Anton Bastian, 21, Jamaal Dorfevil, 30, and Marcellus Williams, 23, are alleged to have murdered Bruner on the day in question.
They are also alleged to have accosted two women while armed with a firearm, robbing one of $150 cash and her $3,000 handbag and the other woman of cash, a handbag and an iPhone.
In yesterday's proceedings before Justice Indra Charles, Sgt Sherman said his inquiries took him, a number of officers and a suspect, to an area on Williams Lane off east Shirley Street.
"At the end of this corner is a dead end and an unpainted wooden structure," the officer said, adding that "some five feet north of the house is some shrubbery."
"In that shrubbery, I observed a black handbag along with a number of personal items. There was also a set of keys, one of which appeared to be for a Honda vehicle," the jury heard from the witness.
Detective Sherman said he photographed the scene and placed the images on a compact disc (CD). The officer said he also prepared a Power Point slide show for the court's view of his role in the matter.
The images were shown to the jury on the court's television monitor.
Bastian's lawyer, Roberto Reckley, asked the officer: "When did you create this Power Point?"
"I completed it yesterday," the officer said, noting that they were the same images that he had photographed on May 13, 2013.
Mr Reckley asked the officer if he agreed that image number 14 (showing the handbag and personal items spread across a wooden surface) was not on the CD submitted by him. The officer said it was.
Mr Reckley asked the witness if he agreed that his report made no mention of seeing a suspect at the scene. Detective Sherman agreed, but said he did observe a suspect at the scene.
"Was any fingerprint or DNA found belonging to anyone charged in connection with this matter?" the lawyer asked.
"I'm not aware of any results," the detective said.
Ian Cargill, lawyer for Bethel, asked the officer if he knew who would know of the results from fingerprinting and DNA testing.
Detective Sherman said the police forensics lab would likely have that information.
Nathan Smith represents Johnson while Sonia Timothy and Walton Bain respectively represent Dorfevil and Williams.