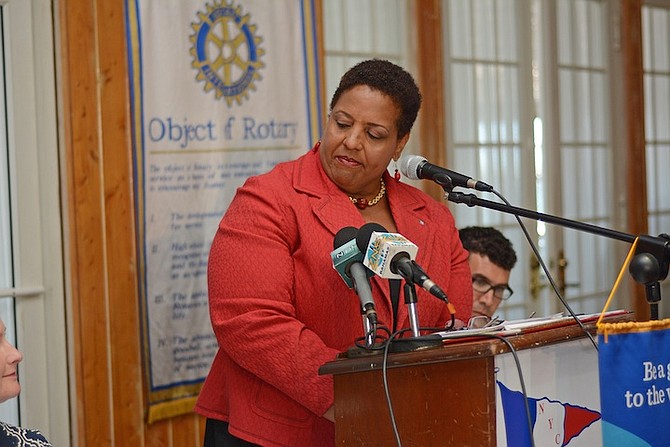 By RASHAD ROLLE
Tribune Staff Reporter
rrolle@tribunemedia.net
PRIME Minister Perry Christie's admission that Hurricane Joaquin has provided the government with a "teachable moment" is a "cop-out", Long Island MP Loretta Butler-Turner said on Friday.
Mrs Butler-Turner was responding to a question about Mr Christie's remark, although she emphasised that she does not want to be critical so soon after one of the worst hurricanes in recent memory.
"I've heard this term 'teachable moment' around so much, I just find it incredible that you need to have that many lessons before you learn," she said.
"And so moving forward I think it's very, very important for us to stop talking about what we learned. We now have to start acting on what we know and we know many things but we just were inactive.
"I think it's really a cop-out for not acting. Those are my thoughts. I don't know how many lessons we need. We've been having hurricanes all our lives. How much more do we need to have teachable moments? We just need to do what is necessary. These are Bahamians. These are our brother and sisters. Wherever they are, we can't be learning at their risk and their expense. We have to, as a government, be protecting them."
Mrs Butler-Turner also said that while she has confidence in the capacity of top officials at government agencies like the National Emergency Management Association (NEMA), parliamentarians must be held to account for their own efforts to prepare people for the storm.
"When you talk about the government agencies, you must realise that there must be a level of autonomy for them to go about doing what they do," she said.
"I'm not sure what instructions they would have taken but I have a lot of confidence in the head of NEMA and in the head of many of those governmental agencies. I think if there is any blame that needs to be looked at, maybe we need to start examining ourselves as the leaders and government members to see if we actually were doing the right things. I think that is what we have to determine."
She added that not only will officials have to assess its rapid response protocols, but it will also have to audit its shelters around the country are some were compromised and left unopened during the storm.
Nonetheless, she stressed that now is not the time for "finger pointing".
"This is a time when we have an amazing co-operation of people and I don't want to break that spirit," she said. "I want people to realise that just with our collaborative efforts we can do amazing things. We can do our post-mortem after that and start pointing the fingers but at this time I don't wish to break that momentum."