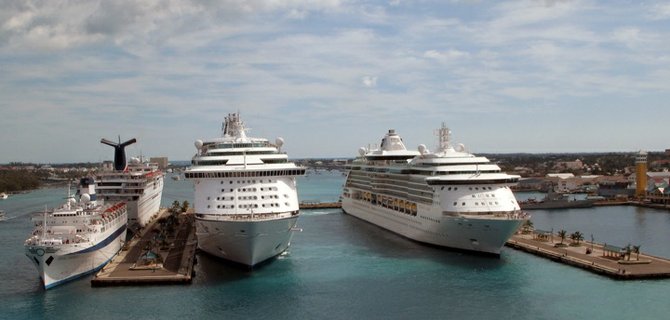 By KHRISNA VIRGIL
Tribune Staff Reporter
kvirgil@tribunemedia.net
THE Bahamas has been named by a popular international travel website as one of the Caribbean's most dangerous cruise stops with the winter tourist season approaching.
Yahoo Travel listed the Bahamas along with St Lucia, Antigua, St Kitts and Guatemala as "problematic", citing the latest US State Department's crime warning to its citizens about escalating criminal activity in the capital. 
The international travel website also alluded to an ongoing spat between Tourism Minister Obie Wilchcombe and Democratic National Alliance leader Branville McCartney, who alleged that the minister refused to discuss crime woes with the leading cruise lines. Mr McCartney said this would lead to another crime warning to cruise ship passengers.
This information was contained in a private email to Mr Wilchcombe. He later addressed the issue during a House of Assembly session, revealing that the matter was turned over to the police to determine the how the email was leaked.
Miami Attorney Jim Walker, who has represented a number of former passengers in lawsuits against the cruise ship industry, is quoted by Yahoo Travel as saying "Please don't go to Nassau. I see it as a hotspot. It's just a place that we hear about quite often.
"Every week we get a call of some sort from a Caribbean island," Walker tells Yahoo Travel. "There's been a sexual assault of a minor in a place that otherwise seemed safe. Or someone's been robbed. Or someone's been sexually assaulted.
"If someone came to me and said, 'I'm going [on a cruise] from Spain to Italy, or a cruise from Seattle to Ketchikan [Alaska] or I'm going to go to Nassau,' I'd say, 'Please, don't go to Nassau.'" he says. "I see it as a hotspot. It's just a place that we hear about quite often."
Yahoo Travel notes that Nassau has a relatively high murder overall murder rate - 30 per 100,000 people, which is comparable to or better than a few US cities, including Miami and Baltimore.
Despite this, visits to the Caribbean and the Bahamas account for more than a third of the 22 million cruise passenger industry's global deployment capacity. Most of those Caribbean cruise passengers have fun, incident-free vacations. 
Mr Walker made several recommendation to visitors who may wish to visit the Bahamas saying cruisers should read up on crime reports for the destinations, either by searching advisories by the State Department or even reading their destinations' local newspapers online.
He said once your cruise vacation begins, keep an eye on your children (especially young teenagers).
"Don't leave the tourist areas. Don't go sightseeing by yourself or anything like that. If it looks dangerous, it's probably more dangerous than you think. You can always go back to the ship," he said.