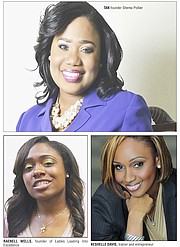 By JEFFARAH GIBSON
Tribune Features Writer
jgibson@tribunemedia.net
AFFIRMING every teenage girl's worth and purpose is the aim of a new group of young women who are seeking to motivate their peers and raise up future leaders.

Made up of young ladies ranging in age from 11 to 17, The Affirmation Nation (TAN) has numerous initiatives through which it hopes to assist Bahamian girls discover their God-given purpose and help them achieve their dreams.
The members of TAN said they are themselves affirmed in their identity, unique inner and outer beauty, as well as their individual purpose. They promote self-development, continuous learning and positive mentorship.
The upcoming Princess Conference is one of TAN's first events. Scheduled to be held on October 24 at Mario's Bowling & Family Entertainment Palace, the event will also serve as the official launch for the movement.
Presenters at the conference will include TAN founder Shema Poitier, known as "Lady Shema"; Raenell Wells, founder of Ladies Leading Into Excellence (LLITE), and Keshelle Davis, trainer and entrepreneur.
The event will also feature star entertainers, some of whom will also provide positive pep talks for the ladies like Christian Massive, Toinette Dean and DJ Counsellor. And the fun does not stop there, as there will be exciting surprise giveaways and other activities.
Lady Shema said all participants will benefit greatly from the Princess Conference.
"The young attendees will be transformed, motivated and inspired after attending the Princess Conference because of their exposure to the knowledge that will be shared as well as the newly formed relationships that will further encourage their continual growth and development," she told Tribune Woman.
"Teenagers who become official members of TAN will be required to participate in seminars and courses towards equipping them to become loving nurturers and effective leaders in the spheres of influence to which they have been called with excellence," she said.
Those courses will be offered every third Saturday of the month beginning November 21. Each activity will be geared towards helping teenage girls discover and celebrate their significance and value, she said.
Lady Shema said she has a passion for maximising the leadership potential of young women.
Her debut music single, entitled "Affirmation", and released in 2003 was signalled the first phase of this movement, she said.
"Affirmation" received three Marlin Award nominations the year it was released. It was then re-released as 'Affirmation – The Remix' in January 2010 with features by international recording artist Chris 'Kazi' Rolle of New and Sammi Starr, winner of the Junkanoo Carnival Music Masters National Competition 2015.
Lady Shema said she is aware that generally when young women face a lack of affirmation, approval, love and acceptance from those who are the most important to them, they tend to struggle with low self-esteem and a lack of self-confidence.
As a result, she said, young ladies may be inclined to give in to the pressures of those persons who are giving them the acceptance they seek.
"However, when young teenage ladies resolve in their hearts that they have been and always will be accepted in the Beloved – their maker – and that despite rejection and disapproval they are still gifted to fulfil purpose, this transforms their outlook on life and helps them to persevere beyond unfortunate circumstances," she said.
Lady Shema is a former ZNS news reporter, radio personality on Joy FM, Spirit Gospel FM and Gems FM, a and former radio talk show host on Sports Radio FM. She has been recognised for her contributions in youth development by the Bahamas Debutante Foundation and other local organisations. Additionally, Lady Shema is an ordained minister of the gospel, community activist, songwriter and an award-winning recording gospel artist.