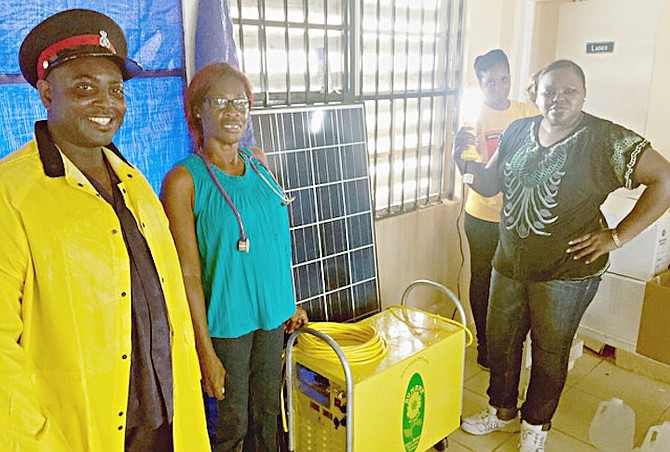 A SOLAR-powered generator was delivered to Crooked Island on Saturday to provide power to what is left of the hurricane-ravaged Colonel Hill airport terminal where a makeshift health clinic has been set up to help the residents.
Inspector Miller said they were thankful that after seven days they would have power for the first time since the storm.
The generator, along with a host of other supplies, came as a result of the teamwork between HeadKnowles, Save The Bays, Clean Water Solar Solutions, Odyssey Aviation and BEC Chairman Leslie Miller as a part of the SOS - Save Our South initiative of the Tribune Media Group.
Mr Miller was there to see how the airport terminal had been converted into a makeshift health clinic, administration and social area. The team also evacuated seven children on a Pineapple Air/Tribune charter. Now powered, the fridge from the clinic can be used to store the insulin needed by diabetics on the island.
Inspector Miller told The Tribune that the BEC generator had stopped working because water had got into it, leaving the residents without fresh water. "Gerald Cunningham has been supplying Cabbage Hill. He has a big water tank and they would come by him for water and I think the generator you have sent can pump water into the tank," he said.
The generator delivery was just part of the massive ongoing relief operation to get help to the southern Bahamas islands ravaged by Hurricane Joaquin which continued over the weekend with DC-3 cargo planes taking supplies packed in Nassau.
One mother of five from Colonel Hill pleaded for her family - including three adults - to be evacuated later by returning planes. She was concerned that her youngster had been bitten by a mosquito and feared infection.
The evidence of devastation around the island included a BTC communications tower at Major's Cay - built to withstand winds of up to 150mph - snapped in half, water turning stagnant and the road at Winding Bay washed away by the storm surge.
Mr Miller, the MP for Tall Pines, couldn't believe what he was seeing as he toured Crooked Island. "It is unbelievable the degree of the destruction. It makes you appreciate what nature and what the seas is all about and the force that that hurricane that has done to this island.
"I cannot believe that a road can be totally taken by the seas. Its unbelievable that this beautiful beach has been formed where this road once was. You have to see this to believe it." He estimated that the cost of repairing the road would be "half a million dollars".
Mrs Neely, the Crooked Island Adminstrator, told The Tribune that "every building on this island has been affected".
She appealed for cleaning supplies - bleach and Pine-Sol - "because the water is now becoming compromised". She listed towels, bedding, portable gas stoves, sheets and plastics for beds because the mattresses were not dry among immediate essentials.
Mrs Neely said she had been in Nassau when the storm hit and when she returned on Sunday she found her house damaged and all her personal effects lost. The worst hit areas she said were Landrail Point and Cabbage Hill. "We definitely need more manpower on the ground," she said and a need for high vehicles as there was an flooded area almost a mile long which was impassable.
Mr Miller and John Bostwick, the former senator, were part of the visit on behalf of One Bahamas.
Mr Bostwick told residents that the stories reaching Nassau were that "Crooked Island has been destroyed, that Crooked Island seriously is sinking under the seas" and that people had abandoned the island, wanted to leave and not return. He said he wanted the right message to go back to Nassau. He was told emphatically by one resident that "Crooked Island is not going to be abandoned. I can assure you that Crooked Island is going to be rebuilt".