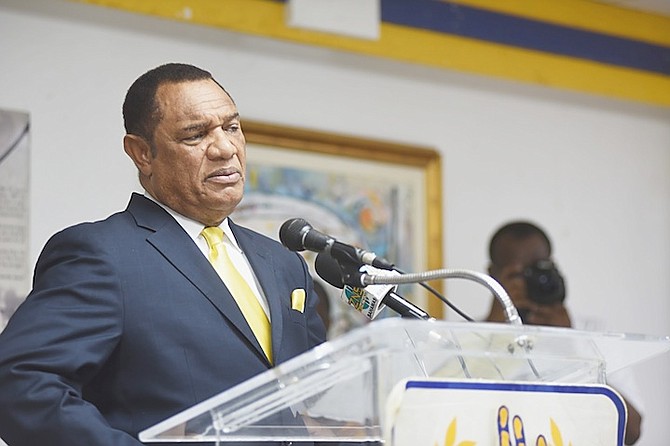 By KHRISNA VIRGIL
Tribune Staff Reporter
kvirgil@tribunemedia.net
PRIME Minister Perry Christie said the government cannot declare certain areas in the storm-affected Family Islands as no build zones unless it passes legislation in Parliament to recognise those areas as vulnerable.
He said while this and other major decisions are before Cabinet, the government will encourage people to build in elevated areas with very specific building requirements that can withstand future natural disasters.
His comments came during a press briefing at the Office of the Prime Minister yesterday where National Emergency Management Agency (NEMA) Director Captain Stephen Russell insisted the government simply could not afford for homes to be rebuilt in certain areas.
Capt Russell said following previous hurricanes, homes were rebuilt elevated off the ground using stilts. He said these kinds of homes were likely to survive hurricane force winds and would likely be the model followed during these rebuilding efforts.
Former Director of Works Melanie Roach is heading a special committee for the rebuilding of homes, roads and government buildings. This committee is in the process of receiving a list from the Department of Social Services of the families who need new homes.
Hurricane Joaquin affected an estimated 5,000 people as it battered the central and southern Bahamas on October 1 and 2. The storm left significant damage to Acklins, Crooked Island, San Salvador, Long Island, Long Cay and Rum Cay.
Mr Christie said: "Right now we cannot compel people (to completely leave an area) unless we pass a law to that effect. The act (would) empower us to recognise vulnerable areas to place ourselves in the position where we can say that you cannot build in that area.
"But you take a place (like) Acklins for example that was just utterly devastated, people have been living there for I guess 150 years and so the point is how do you go about telling people you can't live there?
"So the government will be encouraging people to look very carefully at that and so we will be requiring them to build with hurricanes in mind which means that the foundation must be at a certain height for flooding or built on stilts in these islands. So we are going to be very proactive. Those decisions are being made now."
Last week, Deputy Prime Minister Philip "Brave" Davis said while the "resettlement" of some Family Islands is a difficult subject, the government needs to consider this as the country is now faced with a massive rebuilding effort following Hurricane Joaquin.
Mr Davis, who is also the minister of works and urban development, said the realities that prompted the development plans of most Family Islands in years past no longer exist.
Yesterday, Mr Christie pegged the damage from the category four storm at more than $60 million.