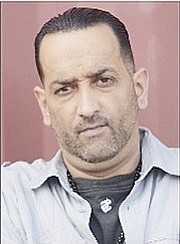 By NAUGHTY
naughty@tribunemedia.net
LAST week was an interesting one to say the least.
In addition to shooting myself in the foot with the Colts - in Luck to out of Luck - the football took some cruel bounces, with some teams snatching defeat from the jaws of victory and others making improbable comebacks from big deficits.
So taking all of that into consideration I will roll with the 8-6 record for the week ... it could have been worse!
Maybe it is, this wretched 'cold' is beating me down like the Patriots with all the 'cheat codes' and some inflation (deflation in their case) needles.
So it's gonna be short and sweet so I can get back to my 'bush medicine'.
Falcons v
Saints
The Falcons keep soaring in this one.
Yes, its a division game so throw the records out of the window. The Saints will play tough at home, but its too much Ryan, Jones and Freeman late for the Falcons.
The Falcons keep their perfect record in tact with a big road win.
Falcons 38
Saints 30
Bengals v Bills
No Tyrod Taylor at QB for the Bills. Back up Matt Cassle was traded to the Cowboys, so EJ Manuel come on down!
And with that being said the Bengals on the road against an injury riddled Bills squad.
If the Bills are remotely healthy I'm taking them at home, but if they are not so the Bengals it is.
Bengals 24 Bills 17
Broncos v Browns
Denver's defence is the real deal, and despite missing DeMarcus Ware they will get the job done again this week on the road against the Browns.
The Browns possess erratic, underachieving units on both offence and defence, therefore its the Broncos on the road.
Also look for Ronnie Hillman to take over as the lead RB this week over C J Anderson.
Broncos 31 Browns 23
Bears v Lions
Big NFC North rivalry game here. Both teams are banged up, but that's no excuse, they will both step up and play an entertaining game.
My gut is consistently telling me Lions at home. They are due, and they just got robbed a few weeks back on Monday Night Football.
So, with all of that going, Lions at home in a close one.
Lions 23 Bears 20 (OT)
Texans v Jags
Nice AFC South match up with both teams banged up.
I'm still pissed off with the Texans.
Jags at home!
Jags 24 Texans 20
Chiefs v Vikings
Vikings at home coming off the bye.
AP left, AP right, AP all night, even if Andy Reid has a few tricks up his sleeve!
KC won't be able to get it done on the road, especially without Jamal Charles who's on season ending IR.
Vikings 24 Chiefs 20
Dolphins v Titans
Let the Dan Campbell era in Miami begin!
Based on the fact Campbell is a former Dallas Cowboys player and he's a Bill Parcels type of guy, and the Dolphins can't hit any lower, they can only swim up from here.
Growing pains for Mariota at home, as the Dolphins play inspired on both sides of the ball, on the road with no pressure.
Dolphins 24 Titans 23
Redskins v Jets
Jets at home coming off the bye, in what should be a battle of two strong defences.
Jets 20 'Skins 17
Cardinals v Steelers
I don't know which squad is going to show up for either side. They both are up and down at times, each having their moments of brilliance and insanity.
Carson Palmer gets one for old time sake with a strike to Larry Fitzgerald late.
Cardinals 27 Steelers 24
Panthers v Seahawks
This should be a slobber knocker defensively.
You can never count Cam Newton out, but Seattle, especially the defence, is a different animal at home.
The 12th man steps up big for the 'Hawks who get a much needed win.
Seahawks 23 Panthers 20
Ravens v 49ers
My how these teams have fallen - they aren't even close to the two squads that met in the Super Bowl a few years back.
Add to the equation the departure of Jim Harbaugh back to the college ranks and the University of Michigan, and we still have a good game in the making.
Points go up in this one and so does a W for the 'Niners at home.
Receivers Anquan Bolden and Torey Smith haunt their old teammates on the Ravens sideline.

'Niners 27 Ravens 20
Chargers v Packers
I so want to take the Chargers in this one, but I can't go against Aaron Rodgers at home!
Simple mathematics.
Packers 31 Chargers 24
Patriots v Colts
Let me guess - there's nothing wrong with Andrew Luck's shoulder now huh? In any case I like the Patriots in this one regardless of who's playing QB for the Colts.
No 'Deflate Gate' revenge in this one, Patriots on the road.
Patriots 38 Colts 30
Giants v Eagles
Proud to see my good friend Dwayne Harris excel and emerge as a receiver for the Giants in addition to being a special teams ace.
The Giants are playing well and don't look now here come the Eagles joining the fray in the most wide open up for grabs division in football (a division my Cowboys will wind up winning) also playing well as of late.
Chip Kelly continues to ride RB's Murray and Mathews, and the defence steps up big at home.
Sorry Dwayne, the Eagles scratch one out at home in a nail biter.
Let the log jam in the NFC East continue.
Eagles 31 Giants 27