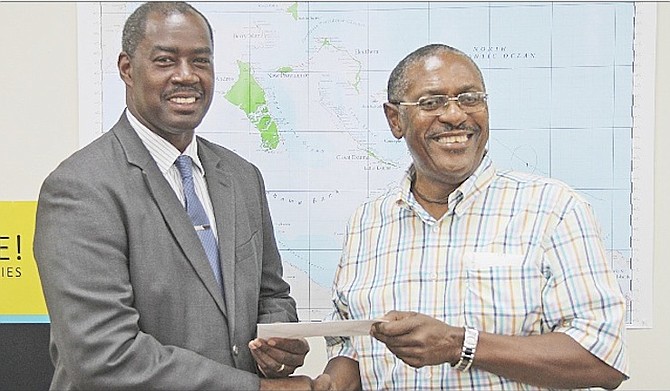 By RICARDO WELLS
Tribune Staff Reporter
rwells@tribunemedia.net
THE Progressive Liberal Party yesterday donated $50,000 to the National Emergency Management Agency (NEMA) to assist with ongoing relief efforts in those central and southern islands affected by Hurricane Joaquin.
PLP chairman Bradley Roberts presented NEMA's director, Captain Stephen Russell, with the donation at the agency's Gladstone Road headquarters.
According to Mr Roberts, The Bahamas has always taken great pride in being a Christian nation, adding that Bahamians have never been shy about expressing that "we are our brothers' and sisters' keeper".
He said: "It is written, 'Love thy neighbour as thyself'. It is also written that what we have done unto the least among our brethren, we have done unto God. These principles of love form the foundation of our Christian teachings.
"Today it is me, but tomorrow it could be you," added Mr Roberts.
In addition to thanking people that have assisted with relief efforts to date, he called on those who have not yet aided relief efforts to join the national response in the wake of the devastating category four storm.
He lamented that Joaquin is not the first hurricane to act as a stumbling block to the nation's development, insisting that history has shown that each time The Bahamas is knocked down, "we have collectively turned the stumbling block into a stepping stone".
Mr Roberts declared that in the aftermath of Hurricane Joaquin, this national rebuilding effort would be no different. He stated that the Bahamas would emerge "stronger and better".
"We as a nation will emerge from this trial with a much stronger national resolve and with greater compassion. We will be better overall," he added.
Prime Minister Perry Christie on Wednesday said the government's initial assessment has quantified a $60m price tag for repairs, a sum he expects to increase as the Ministry of Finance continues to receive additional assessments in the coming weeks.
Capt Russell said that the government's relief efforts will comprise a two-pronged approach; first, social relief and then secondly, repairing government infrastructure damaged during the storm.
According to Capt Russell, the $60m figure presented by Mr Christie encompasses primarily government infrastructure.
He explained that all donations received by the agency from private groups and institutions like the PLP will go directly to assisting those left displaced by Hurricane Joaquin.
NEMA was sanctioned by the government to receive donations in aid of relief efforts; however, it is still unclear how much the agency has received to date.
When pressed by reporters on the amount raised by agency in recent days Capt Russell said that NEMA was still working to total the amount received and hopes to present that figure to the public soon.
Earlier this month Hurricane Joaquin ripped through the central and southern Bahamas over a two-day period, crippling essential infrastructure and destroying hundreds of homes and businesses. The islands of Acklins, Crooked Island, Long Cay, San Salvador and Long Island received serious damage.