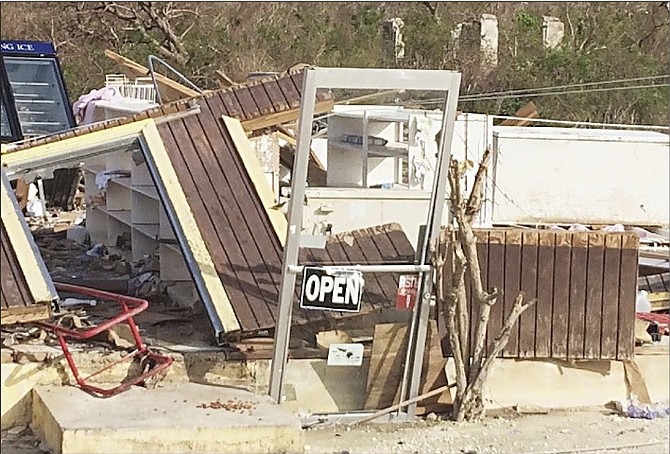 By SANCHESKA BROWN
Tribune Staff Reporter
sbrown@tribunemedia.net
FNM leader Dr Hubert Minnis said yesterday the opposition will "fully support" the government's rebuilding efforts in the Family Islands affected by Hurricane Joaquin as long as the contracts for the work are published in the local dailies.
Dr Minnis called for the government to demonstrate "complete transparency" to eliminate the chance of PLP cronies being awarded contracts.
Last week, Prime Minister Perry Christie said the initial assessment has pegged the price tag of damage at more than $60m.
This figure, he said, is expected to increase as the Ministry of Finance continues to receive additional assessments.
"The FNM supports the government's rebuilding effort," Dr Minnis said told The Tribune. "But the entire process needs to be transparent. We look forward to the government helping those people in the islands affected by Hurricane Joaquin. The opposition is calling on the government to demonstrate complete accountability in the rebuilding and contract awarding during this time. The FNM wants the contracts to be published in the local news dailies. We do not want to see only PLP cronies awarded contracts, it must be fair and even across the board."
Last week, Mr Christie said the amount needed to cover the cost of the hurricane recovery and repair phase is likely to be funded through borrowing from either the Caribbean Development Bank, financing from the People's Republic of China or by other traditional sources.
NEMA's director, Captain Stephen Russell, has said that the government's relief efforts will comprise a two-pronged approach; first, social relief and then secondly, repairing government infrastructure damaged during the storm.
According to Capt Russell, the $60m figure presented by Mr Christie encompasses primarily government infrastructure.
Earlier this month Hurricane Joaquin ripped through the central and southern Bahamas over a two-day period, crippling essential infrastructure and destroying hundreds of homes and businesses. The islands of Acklins, Crooked Island, Rum Cay, San Salvador and Long Island received serious damage.