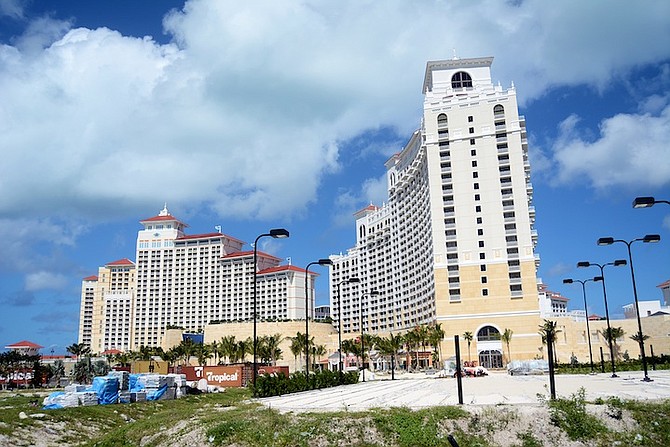 TWO THOUSAND Baha Mar employees have been made redundant immediately after Justice Ian Winder granted approval in the Supreme Court on Thursday morning to the Baha Mar joint provisional liquidators' request to make layoffs.
The joint provisional liquidators, Bahamas-based KRyS Global and UK-based AlixPartners, said the layoffs were due to the financial insolvency of the $3.5 billion resort project that has been stalled since June 29. The redundancies are effective from Friday, October 23.
The lay-offs affect approximately 1,440 non-active employees and approximately 580 active employees, including members of management and line staff.
"Though today's layoffs are difficult on everyone, it further highlights the urgency for everyone to remain at the negotiating table and maintain the dialogue that may lead to a resolution, a re-start of construction and the completion of the Baha Mar project," said Edmund Rahming, KRyS Global Managing Director.
Staff were advised of their status by notice to their individual e-mail addresses or communication from supervisors. Information was also posted on the joint provisional liquidators' website www.bmplprocess.com
"We were paying housekeeping staff when there was no housekeeping to do, spa staff when there was no spa, casino staff when there was no casino to operate," said Alastair Beveridge, of AlixPartners. "Thanks to monies that were made available to us by the government from funds that were due to Baha Mar for road construction works, we were able to keep these staff members on as long as we did. We know that they have obligations, that many of them gave up other jobs to join the Baha Mar dream team and now we are continuing to focus on how best to make that dream a reality."
Management and staff who were made redundant are being offered assistance in development of CVs and resumes and in job-hunting. Staff members were retained to provide assistance in job skills development and life skills, with employment workshops scheduled to run from October 29 to October 31.
Today's actions did not affect the Melia Nassau Beach Resort.
Full story and reaction in Friday's Tribune.