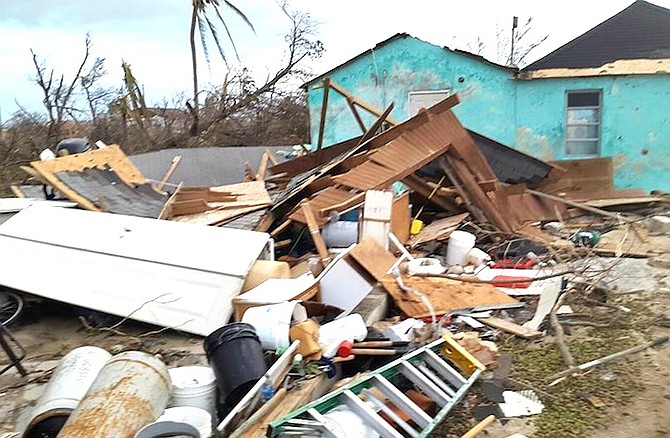 By NICO SCAVELLA
Tribune Staff Reporter
nscavella@tribunemedia.net
NATIONAL Emergency Management Agency Director Captain Stephen Russell yesterday said that the agency is expected to begin its repair and construction phase for storm affected islands "in earnest" on November 2.
He added that NEMA's relief distribution efforts on islands devastated by Hurricane Joaquin have been going "fairly well." However, Captain Russell acknowledged the agency's difficulties in dealing with independent persons and/or entities that make donations outside of NEMA, which he said "overwhelms the system."
He said NEMA has shifted from the delivery and distribution of relief supplies towards its "repair and construction phase." This, he said, involves the formation of repair and construction teams throughout the various islands to aid in rebuilding efforts.
However, he said, the distribution of relief supplies will continue "as long as is necessary."
Captain Russell's statements came during a press conference announcing the donation of over $150,000 worth of building supplies to assist Long Island residents in the reconstruction efforts in the wake of the category four storm.
He spoke while employees at Premier Importers were hard at work loading two flatbed trailers with plywood, shingles, and nails to be delivered to Long Island to aid in the reconstruction of buildings and dwellings damaged during the hurricane.
Captain Russell said the supplies were bought with "donated funds".
Captain Russell also said that another organisation is expected to make a $170,000 donation to help jumpstart the repair and construction programme in the other storm impacted islands.
"And each island in some cases, Long Island we ask them to form four teams," he said. "Acklins, Crooked Island four teams. Rum Cay, San Salvador two teams. But each team will consist of nine persons who in some cases will be employing as much as 36 persons initially in Long Island, Acklins and Crooked Island to start our repair programmes.
"The aim is to get these materials into the islands, the team from the National Repair and Construction Unit they were in the islands doing those door-to-door assessments so we know exactly what each household needs and the aim is to get the material to those households, and we have the repair and construction team work with those persons whose homes have been seriously impacted for the repair at this time.
"Later down we move into reconstruction phase where we have to map out those homes that have to be reconstructed. Knowing whether they're going to continue building them in those areas, or move them elsewhere. We're going to change the concept. All those homes that we reconstruct now or rebuild (will go) on pilings now instead of flat on the ground to take in consideration the surge or the wind that may comes with future storms."
Earlier this month, residents of Long Island had complained that the distribution of supplies had been poorly organised, complaints which Captain Russell had previously acknowledged.
"In terms of relief supplies, food water and basic cleaning items, they're going fairly well I should say," Captain Russell said yesterday. "We heard some remarks in reference to the lack of coordination. We have a system where if persons who are donating goods to a disaster area, once those goods go in through our administrator and our team that is in place, we can further distribute them in a systematic manner.

"But when anybody comes and just dumps their supplies into an area, that overwhelms the system. It does not show who they're coming to. But if they go in the care of the administrator and relief and distribution team, we can receive them and effectively distribute them in the islands. So, as far as I'm aware, our system that we have in place is moving rather smoothly."