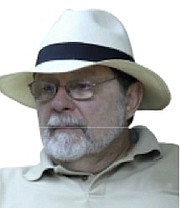 By LARRY SMITH
IN 2005, I wrote a column about human rights abuses in the modern Bahamas.
Among other cases, I gave a summary of what was perhaps the worst such abuse up to that time. It involved an unfortunate individual named Atain Takitota, who claimed to be a Japanese citizen, although the authorities in Tokyo denied it.
Now about 50, Mr Takitota was arrested by immigration officers in Nassau in 1992. He had no money, no passport and spoke no English. No one knew how he had arrived here or where he came from – despite efforts by the honorary Japanese consul, Basil Sands, to establish his identity.
So, for the indiscretion of being a homeless foreigner, Mr Takitota spent the next eight years of his life billeted with hardened criminals in the maximum security wing at Fox Hill prison without charge. He endured the most appalling conditions, attempting suicide at least three times.
Eventually, a prison officer with a heart brought him to the attention of sympathetic lawyers, who applied to the court for his release.
Attorney Sean Hanna sued the government on Mr Takitota's behalf. And in 2004, the Supreme Court ruled that his eight-year imprisonment was unconstitutional. It was not a tough call.
The court set aside the 1992 deportation order and directed the government to give Takitota the right to earn a living in The Bahamas.
"One would expect that a certain minimum standard of civility and humanity would be the order of the day," the court said at the time.
Mr Takitota was awarded $1,000 in damages for false imprisonment, which his lawyer deemed "wholly inappropriate", so he pursued the matter. And in 2006 the Court of Appeal awarded Mr Takitota $400,000 in compensatory damages and another $100,000 in exemplary damages, in addition to court costs.
The case was further appealed and three years later, the Privy Council ordered that the award be increased to reflect the inhumane conditions and misery that Mr Takitota had suffered in prison for eight years without being convicted of any crime.
Now, another unfortunate individual has broken Mr Takitota's misery record. Earlier this month, the Supreme Court ordered the release of a 27-year-old Jamaican named Matthew Sewell, who had been falsely imprisoned here for nine years.
Mr Sewell's story is just as incredible as Mr Takitota's. He was 18 when he arrived in Nassau legally to visit his father, who works here as a house painter. Court records show that within days of his arrival, Mr Sewell faced a series of false accusations.
First, a neighbour accused him of raping a six-year-old girl. He was detained for two weeks without bail, then charged and remanded to prison to await a preliminary inquiry. He was held at Fox Hill for two years before he was granted bail in 2008. The case was eventually dismissed without trial.
But while on bail awaiting a trial that never came for the rape charge, Mr Sewell was arrested on the basis of false allegations of housebreaking and murder. Those charges were dropped in 2014 after it was revealed he was in custody when the crimes were committed.
When he was released from prison as an innocent man about a year ago, Mr Sewell was sent to the Carmichael Road Detention Centre by immigration authorities.
In press interviews since he was freed by the court, Mr Sewell alleged that he had been routinely beaten by inmates and guards, and endured six continuous months in rat-infested solitary confinement.
"I was treated like a dog and placed on the condemned block with hardened criminals," he said. "I thought I was going to kill myself. It was only through the grace of God that I survived."
In the face of such gross injustice, Foreign Affairs and Immigration Minister Fred Mitchell has urged the public not to "rush to judgement… we must try to get all the facts." In other words, the court adjudication is somehow irrelevant to the facts and neither Mr Mitchell nor the government will accept any responsibility.
The facts in this matter are perfectly clear. There are only two lawful reasons for detaining individuals under the Immigration Act. That law says a person who has been refused permission to land in The Bahamas may be detained for up to two months until deportation.
An individual may also be detained under the authority of the governor-general where a deportation order or recommendation to deport has been issued by the minister. But deportation must be the result of a court order.
The basis for Mr Sewell's detention by immigration was that he had "no legal status in The Bahamas", according to his lawyer, Fred Smith. "However, no deportation order or recommendation to deport was ever made...and therefore his detention (was) unlawful."
In Mr Takitota's case, the appeal justices held that the court was the only arbiter of whether an individual's presence in the country was contrary to the Immigration Act. "Detention or arrest with a view to deportation without being taken before a court is not permissible". And you can't be clearer than that.
Mr Smith noted that British law, which we have inherited, made every imprisonment "prima facie unlawful and it is for a person directing imprisonment to justify this act". The Bahamas "entrenched those principles in the Constitution. The fact that the appellant is not a Bahamian citizen does not mean he is not entitled to all the protection of (our) laws."
Since no court has adjudicated on Mr Sewell's right to remain in the Bahamas, any deportation order (or recommendation to deport) is invalid. And even if a court had adjudicated on this, he could only be detained for "a reasonable period", as noted by the justices in the Takitota case.
"Sewell (was) detained in the Carmichael Road Detention Centre since November 3, 2014. He (was) therefore in administrative detention for almost a year. This is not a reasonable period of time," Mr Smith said. "It's not just me saying this, it's the judges of the Supreme Court, Court of Appeal and Privy Council."
Mr Smith added that if he had not taken on this case, Mr Sewell would have continued to languish at the Detention Centre. And he told me there are many other such cases.
"I get so many calls or frantic scribbled notes from people pleading for help because they have been held for years, or they've been falsely imprisoned, or they can't get their trials heard, or they can't get bail. I wish I could clone a host of human rights lawyers. It's very discouraging!"
The Bahamas is a nation of form over substance. We go from the extreme of ignoring regulations that provide for basic safety (as in the case of jet skis, mailboats, traffic, hospitals etc), to the other extreme of police and immigration crackdowns for non-offences like those involving Mr Sewell and Mr Takitota - and many others.
But, depressing though these cases may be, we must also consider what former Governor-General Sir Arthur Foulkes pointed out to me when I wrote about this issue years ago - the judicial system can be effective in guarding our civil rights against arbitrary executive authority.
"We have a good Constitution but we need to learn how to use it," Sir Arthur told me. "I congratulate Fred Smith and other Bahamian lawyers who are proving that we are a country where the rule of law can prevail."
• What do you think? Send comments to lsmith@tribunemedia.net or visit www.bahamapundit.com.