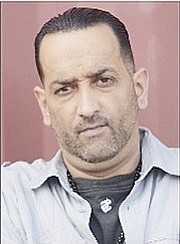 By Inigo 'Naughty' Zenicazelaya
ON behalf of my football brethren here in the Bahamas, I have a very important announcement.
Attention! Attention, all wives, girlfriends and baby mamas: Thursday, September 9 (circle that date on your calendar) is the kickoff of the NFL season and a bevy of games shall come your way on Sunday, September 13. Thursday is the appetizer before the main course.
Ladies, I suggest strongly that if you have anything on your to-do list, get that to your husband/boyfriend/baby daddy post haste because as of September 9 you are all gonna become NFL football widows.
If there is anything to be done around the house, you better see us before Thursday night kickoff because after that we will happily assume the position on the sofa and go into that catatonic football trance.
There will be no monstrous to-do list snuck in at the deadline.
Throughout the course of the football season you can ask us to participate in changing the light bulbs, throwing out the trash and the occasional changing of a spare tyre.
Maybe we'll grab some wet towels from the washer and literally toss them into the dryer. Perhaps we'll grab said towels from the dryer and toss them onto the sofa - but you're doing the folding.
Please understand that we love you but we also love football. And since we're being honest, there's a billion other ways you could lose our undivided attention and (more importantly) free manual labour.
I mean, you could lose us to golf, you could lose us to fishing. Sweethearting is popular in the Bahamas too so there's always that (just kidding).
Seriously, all we want is to watch the NFL in the safety and the comfort of our very own homes each and every Sunday in relative peace and quiet!
Tucked in the sofa like an 'Idaho Potato', nestled in front of the 42-inch flatscreen with Cowboys, Dolphins, Patriots games and so on, and chips and dips, pizza, beers, chicken wings, burgers and tacos!
Yes, that's what we're all about ladies. You are losing using us, but you know exactly where we are going - in the man cave, on the sofa transfixed to ESPN, FOX, NBC, CBS and the NFL Network. Rewind and repeat for the next 20 weeks.
If you want to prove your undying love for us by learning the game of football, February to July is the perfect time for that, not on Sundays as the big game is about to start.
Curl up next to us on the sofa in something skimpy, have a cocktail and watch your man enjoy football - the thing he loves most (next to you of course) doing absolutely nothing to perfection.
It's not like you don't make us watch those marathons on Lifetime Network, so call us even.
Hopefully this will help you ladies moving forward for the next 20 weeks. Like GI Joe always said "knowing is half the battle" so know that you know the NFL season rules, learn them and start practicing them now.
Oh and don't try to pass it on to your brothers, cousins or neighbours. They will be watching football also, and we need to teach them the football doctrine early.
In extreme cases of loneliness I suggest you recruit your male friends who like bright colours, feng shui, Sex in the City re-runs and sipping Moscato while listening to Wham and Adam Lambert to keep you company.
That's a win-win for everyone.
Fantasy Football
Extra Points
Don't be alarmed by the injuries to the Green Bay Packers' wide receiver corps. Aaron Rodgers has done a masterful job over the years highlighting and making his receivers better regardless of who they are. Look for Devante Adams to step up big in Green Bay along with rookie Ty Montgomery (as I touched on previously) as well as RB Eddie Lacy out of the backfield.
So if you're in an NFL fantasy football draft there is no reason not to take Aaron Rodgers with your number one pick. I've said all along it's a flip-flop between Aaron Rogers and Andrew Luck. So if you do have the opportunity to get either, go for it.
It's "Buyer Beware" in Dallas when it comes to the running back position. I still think Joseph Randall will be the starter in the long run but, due to nagging injuries to him and Darren McFadden, it's going to start off as a running back by committee. So going into NFL fantasy drafts beware, you never know who's going to be the big guy week to week until the pecking order has been established.
Moving forward I think Joseph Randall will be a starter so if you get a chance to draft him late, stash him on your bench and then unleash the beast when it's time for the playoff run. You'll have a stud sleeper on your bench.
Until next week, go hard or go home!
• Naughty presents 'Mischief and Mayhem in da AM' on KISS FM 96.1 from 6am to 10am, Monday to Friday. Comments and questions to naughty@tribunemedia.net