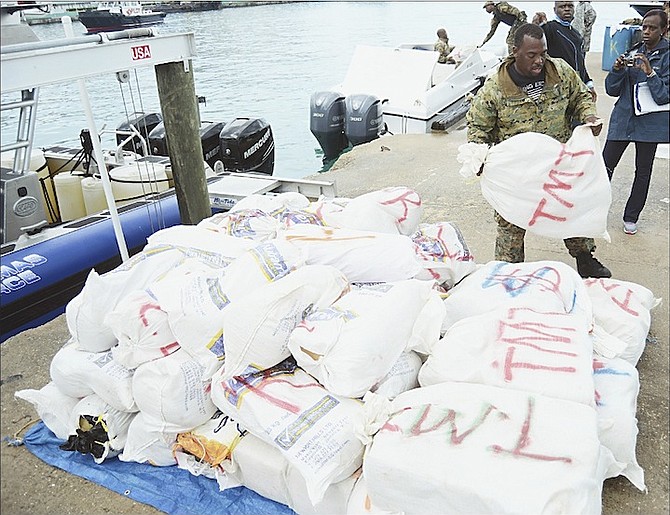 By RICARDO WELLS
Tribune Staff Reporter
rwells@tribunemedia.net
POLICE seized substantial amounts of marijuana in two separate drug raids over the weekend, resulting in the arrest of two men.
In the first incident, around 8am Saturday, Drug Enforcement Unit (DEU) officers spotted a suspicious Honda CR-V in the area of the Arawak Cay Port.
Upon searching that vehicle, officers discovered two large coolers containing several crocus bags containing 193 pounds of marijuana. A 45-year-old man was taken into custody in connection with that matter.
The second raid occurred in Ragged Island. According to reports, shortly after midnight Sunday, a team of DEU officers and the Police Marine Unit, assisted by their United States counterparts, were on routine patrol in waters near Duncan Town, Ragged Island when they discovered a go-fast boat believed to be carrying illicit drugs.
Officers gave chase, resulting in the fleeing vessel running aground near Salt Cay. Once onboard, officers discovered roughly 89 crocus bags containing an unspecified amount of marijuana.
One man is in custody, but three others who managed to escape are being sought by police.
DEU commander, Chief Superintendent Samuel Butler said officials are confident that their investigation would lead to more arrests in both cases.
Speaking to reporters as officers unloaded the roughly 300lbs of contraband, Chief Supt Butler said the seizures dealt a major blow to drug operations in the Bahamas.
"Drug Enforcement continues to keep up its focus as mandated by the commissioner in his policing plan, to continue to keep the Bahamas a safe place where our citizens and visitors are safe," he said.
In mid-July officers seized 5,050lbs of marijuana following a major drug bust in waters off South Andros. The drugs carried an estimated wholesale value of $4.6m.
Royal Bahamas Police Force reports show that marijuana seizures have increased in recent years.
Drug figures provided by Police Commissioner Ellison Greenslade during a review of 2014's crime statistics in January, showed that police seized 20,602lbs of marijuana last year – 2,998 more than the 17,604lbs seized in 2013.