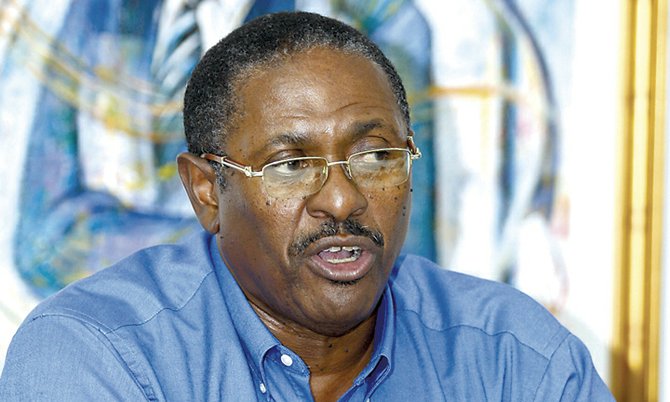 By RICARDO WELLS
Tribune Staff Reporter
rwells@tribunemedia.net
PLP Chairman Bradley Roberts yesterday criticised the opposition party, suggesting that recent comments by Senator Carl Bethel on the Baha Mar liquidation process not only confuses the public, but puts FNM Leader Dr Hubert Minnis in a conundrum.
According to Mr Roberts, members of the FNM have presented three distinct positions on the party's view of the ongoing Baha Mar crisis.
He said that since Baha Mar's bankruptcy filing, the FNM has managed to change its official position from demanding that Prime Minister Perry Christie show leadership and spearhead negotiations, to favouring negotiations and now to an anti-negations stance, after Senator Bethel criticised the Supreme Court's appointment of provisional liquidators on Friday.
Shortly after Supreme Court Justice Ian Winder ruled to allow the appointments, Mr Bethel, a former attorney general, called the decision "foolhardy," according to a local daily.
Mr Bethel also said that Friday's ruling, "figuratively places a loaded gun to the head of (Sarkis Izmirlian)" and will create protracted litigation.
Mr Roberts said those statements reminded him of the "historic story of the slave who tried to think for and spoke ahead of his master and was cut down to size."
"Where does Carl Bethel's national loyalty lie? Instead of defending this country and its institutions, Bethel is behaving like an unpatriotic and slavish Uncle Tom," Mr Roberts said.
"This is inexcusable behaviour from a Bahamian, much less one who desires to lead this country," he added.
Mr Roberts added that the FNM's multiple positions on the issue demonstrated "wanton ignorance of very fundamental principles of governance," adding that the role of the government should always be to protect the sovereignty of the nation it governs.
"I don't know if (Dr) Minnis noticed but at one point during these 'negotiations' he seems so fond of, the developer took legal action in a foreign court which brought the Bahamas Supreme Court into the matter," said Mr Roberts.
"I cannot imagine a duly elected government sitting back idly and impotently, allowing this to happen to its people, but this is the consequence of the FNM's position.
"They may hope that the parties can persuade the developer to drop his bankruptcy in favour of a negotiated settlement, but hope alone is a tenuous and sandy foundation on which to place the sovereignty, economic security and international reputation of an entire country, but Minnis' FNM appears to think this is the best course of action for Bahamians," he added.
Mr Roberts indicated that from the onset of the Baha Mar debacle, Prime Minister Perry Christie determined the best way forward and operated towards that conclusion.
He added: "Is Dr Minnis in charge of his parliamentary caucus and will he publicly repudiate Bethel's comments and censure him?"
On June 29, Baha Mar and 14 of its affiliated companies filed for bankruptcy in a Delaware court. The resort blamed opening delays on general contractor China Construction America (CCA).
In response, the government filed a winding up petition against the resort. The Supreme Court appointed provisional liquidators last week with considerable limited powers to prevent the dispensation of the resort's assets.
The substantive hearing on the petition is scheduled for November.