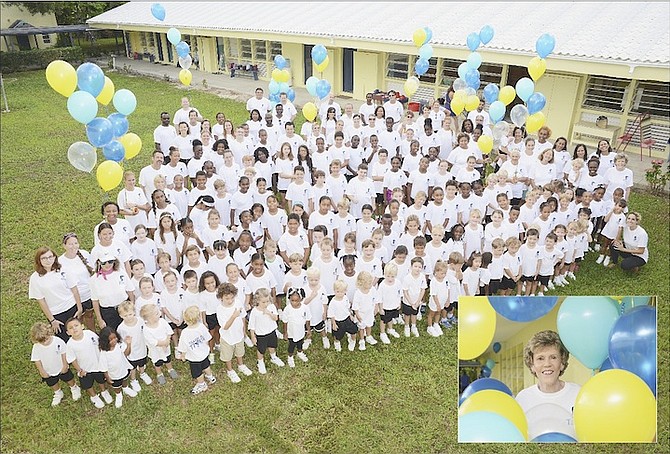 ON THE morning of September 1, 1985, 17 children and four teachers gathered on the steps of 32, Queen Street, for the first day of Tambearly School.
Alice Langford, who started the school with her late husband, Terence, recalled that moment as Tambearly, now based at Sandyport, celebrated its 30th anniversary last week. "By October we had 35 children and by June we had 75," she told the assembled students.
"We have continued to grow over the years, always maintaining a high academic standard and instilling in children the value of being polite and kind."
Tambearly now has 220 pupils and the very first of them in 1985, Felicity Humblestone, paid tribute to Mrs Langford and praised the school for its strong, character building qualities.
"This school shaped who I am today in very significant ways," Ms Humblestone, who now works with the Lyford Cay Foundation and spearheads "Focus", a programme geared to assist underserved, academically motivated students reach their full potential, said.
"Tambearly is where I learned to love learning, and developed an intellectual curiosity that has stayed with me my entire life. It's where I learned to be disciplined in my habits and actions in order to be successful in school. It's where I made lifelong friends and learned to be a good friend. It's where I learned compassion and generosity – where I learned to be polite and kind".

The school also observed a moment's silence for Mr Langford, who passed away this summer. Then, teachers and parents decked out in "Tambearly Titans" t-shirts, exchanged anniversary greetings. "The Tambearly Titans", as they have re-branded themselves, is part of the 30th year marketing plan that includes a new logo featuring majestic elephants, the inspiration for the "Titans" name. According to Mrs Langford, "the first order of business for the Tambearly Titans is to help protect the future of nature", and she announced that to kick-start this assignment, the school has adopted an elephant through the World Wildlife Fund (WWF). The students will be involved in a naming exercise for the mascot sent from the WWF.
The celebrations continued on the school lawn, where tudents and their families were treated to popcorn and a cake cut by Mrs Langford, her son Keith, and school secretary Debra Annesley.

"We look forward to the next 30 years and with a strong team in place, we are ready to expand the Tambearly brand to high school," Mrs Langford declared. Registration for high school at Tambearly with the Advanced Placement (AP) curriculum is now being accepted for September, 2016.