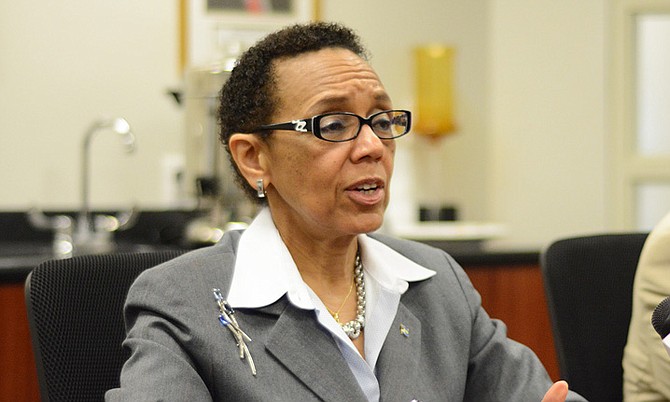 By RASHAD ROLLE
Tribune Staff Reporter
rrolle@tribunemedia.net
ATTORNEY General Allyson Maynard Gibson said yesterday that officials are reviewing the files concerning an alleged bribery of a former member of the Bahamas Electricity Corporation, adding that she will soon go public about the next course of action in the matter.
"The directors on the prosecution side have confirmed to me that the file has been received," she said. "They are reviewing the file. They will advise whether or not in their view it is complete in terms of the investigations and what steps they propose to be taken.
"I want to reassure the Bahamian people that this matter is being taken very seriously. We are near the end of the road and we would ask them to continue to allow the professionals in the Department of Public Prosecutions to continue doing the excellent work that they are doing."
Mrs Maynard Gibson said Bahamians will "absolutely" learn the identity of the person accused of accepting a $325,000 bribe from the French power company Alstom SA more than a decade ago.
A source close to the matter suggested to The Tribune yesterday that though the police found cause to prosecute the suspect, the Department of Prosecutions must consider the legal issues relating to the case, such as whether the statute of limitations applies, before deciding whether to prosecute.
The news that Mrs Maynard Gibson will soon go public on the matter comes nearly a year after the US Department of Justice reported that Alstom SA agreed to pay $772 million following allegations that it bribed foreign government officials.
The bribery is related to a widespread scheme involving tens of millions of dollars in bribes to countries around the world, including Indonesia, Saudi Arabia and Egypt.
The Bahamian suspect in the case allegedly accepted $325,000 in bribes to influence Bahamas Electricity Corporation (BEC) contracts to a French company between 1999 and 2003.
The French company hid payments to the Bahamian official, routing them through an American consultant who was a "close personal friend" of one person able to influence the awarding of BEC contracts.
Following the revelation last year, former Deputy Prime Minister Frank Watson, who at the time had the electricity corporation in his portfolio, expressed "difficulty" with the situation.
Mr Watson has maintained that he was unaware of any controversy surrounding the purchase of the generator, or the events that allegedly took place between 1999 and 2001 when the Free National Movement was in office.