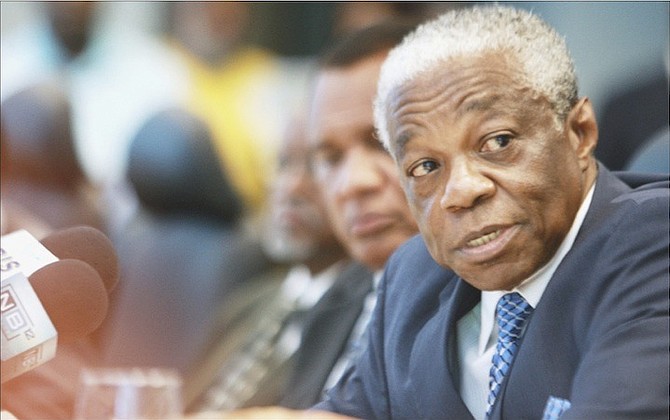 By SANCHESKA BROWN
Tribune Staff Reporter
sbrown@tribunemedia.net
NATIONAL Security Minister Dr Bernard Nottage last night shifted blame to the judiciary for the country's crime problem, as he blasted judges for failing to impose stiffer penalties and not properly enforcing laws that are on the books.
Speaking in the House of Assembly, Dr Nottage said that some magistrates give lighter sentences to criminals because the accused is someone in society's "good son". He said it is hard to believe that some judges live in the same country and still only give criminals "a slap on the wrist" when they appear before them.
His comments came a day after the country marked its 107th homicide for the year. Dr Nottage admitted that violent crime and murders are a problem, but vowed that the government is going to "beat" the issue.
"We (this administration) came here and we made being a member of a gang a crime. And an offence that if found guilty, the offence is a fine of $500,000 and 20 years' imprisonment..."
Responding to a suggestion from East Grand Bahama MP Peter Turnquest that the government needed to enact tougher crime legislation, Dr Nottage said: "We had an Act, which had a mandatory sentence for possession of an illegal gun of four years mandatory."
"The judiciary came back and said that was unconstitutional and some judges, in fact, let me be careful how I put it, but there are people who when someone came before them in the court, carrying an illegal gun and ammunition, it was somebody's 'good son', and they could not bring themselves to pass the sentence that was on the books," Dr Nottage said.
"Then they made us come back here and take it off the books because they said the mandatory sentence was unconstitutional. And then when these people go before the courts with illegal guns, either in possession or using them in a robbery or some shooting, they get a slap on the wrist. Couple of months, Mr Speaker, and then they are back on the streets or be made to pay a small fine or make a donation to a charitable organisation.
"It is difficult to understand how those who adjudicate in the courts can live in the same community in which we live and do not understand the necessity when the members talk about capital punishment," the Bain and Grants Town MP added.
He added: "One member talked about human smuggling. They say we need severe penalties but when you put them there, they have to be imposed . . . and no politician imposes penalties.
"We used to have a gun court . . . it was discontinued, but the value of a special court like that is you can get cases before the court more quickly before an experienced judge who understands the dynamic and under normal circumstances imposes penalties that are more fitting the crime."
"That (court was discontinued) in 2012 and the minute it happened we started having this increase in problem," he added.
The dedicated gun court was established under the previous Ingraham administration but discontinued after the Progressive Liberal Party assumed office in 2012.
Meanwhile, Dr Nottage said the government is "coming back to Parliament very shortly" with new measures to assist in the fight against crime.
"We hope these will assist us in the extraordinary task that we have to reduce and minimise the loss of death of our young people," Dr Nottage said.
Dr Nottage also said those who repeatedly say the government needs to enforce capital punishment seem to forget rulings from the Privy Council, the country's highest court of appeal, have made this difficult.