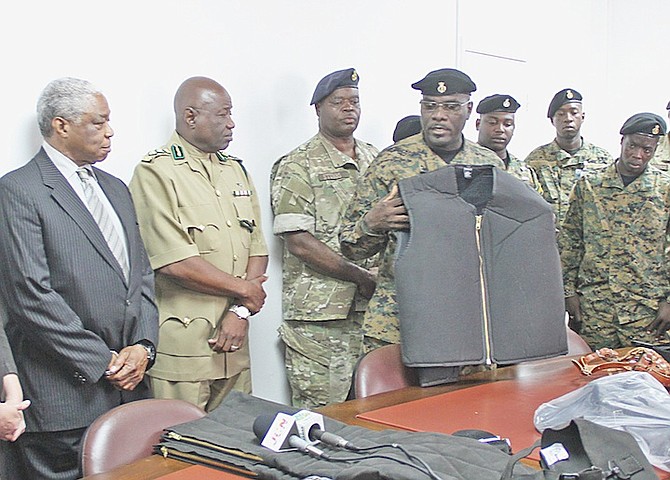 By RICARDO WELLS
Tribune Staff Reporter
rwells@tribunemedia.net
FREE National Movement Leader Dr Hubert Minnis yesterday said he was not surprised after National Security Minister Bernard Nottage blamed the judiciary for the nation's crime woes, suggesting the "tired PLPs are once again up to their old tricks".
Dr Minnis, opposition leader, accused members of the Christie administration of trying to distance themselves from a legacy they have rightfully earned – "the worst government in Bahamian history."
On Wednesday night in the House of Assembly, Dr Nottage took issue with judges for giving criminals "a slap on the wrist" when they appear before them.
The Bains and Grants Town MP also lambasted judges for failing to impose stiffer penalties and not properly enforcing laws that are on the books.
However, Dr Minnis said the only persons that should carry the blame for the nation's crime problems are Prime Minister Perry Christie and Dr Nottage himself.
"(Mr) Christie said he wouldn't allow the police to interfere with his legacy, he has made this last go around all about his legacy. His legacy has already been determined. He is the worst prime minister the country has had," said Dr Minnis.
"Now (Dr) Nottage wants a pat on the back because we had a one-week lull on murders. You got to be kidding me. A government is elected, brought to office and it is expected of them to protect the citizens of their nation," he added.
The Killarney MP accused the government of trying to run from its responsibilities.
"They don't want the blame. They don't want to accept the responsibility. That's fine. I will lay the blame directly at their feet," said Dr Minnis.
He added: "If they are blaming the judges for crime, can you imagine who they will blame for all the other problems the country is presently facing. Who are they going to blame for the mismanagement of the economy? Who do they then blame for healthcare issues? Who do they blame for education?"
Noted pastor, Bishop Simeon Hall also criticised Dr Nottage for his controversial statements.
Bishop Hall, pastor emeritus of New Covenant Baptist Church, said he was "disappointed" that none of Dr Nottage's pronouncements to date "have put a dent in the minds of criminals".
"I would wish to hear Dr Nottage find something he could say that would cause would-be criminals to change their mind," Bishop Hall, who sat on a previous crime council, said. "Life sentences for murder, double the penalty for possession of illegal firearms and whoever is hindering that, we need to fix it."
Meanwhile, Dr Minnis also said that to date, most of the homicides recorded across The Bahamas have occurred in areas represented by the PLP.
"Inner city communities, the communities they represent – Bains and Grants Towns and Centreville – those are the communities that are hardest hit by crime. Yet, they don't want to take responsibility."
Mr Christie represents the area of Centreville.
During a passionate speech on Wednesday, Dr Nottage hit out at those who expect a quick solution to crime.
Dr Nottage also said that some magistrates give lighter sentences to criminals because the accused is someone in society's "good son". He said it is hard to believe that some judges live in the same country and still only give criminals "a slap on the wrist" when they appear before them.
He also lamented the fact that no one praises the government when there is a lull in murders.
Violent crime has been a problematic issue for the Christie administration since assuming office after campaigning that it had the solutions to the problem. Up to press time, the country had recorded 107 murders for the year.
• Do you think Dr Bernard Nottage is the right person for the role of Minister of National Security? Vote in our readers' poll on www.tribune242.com.