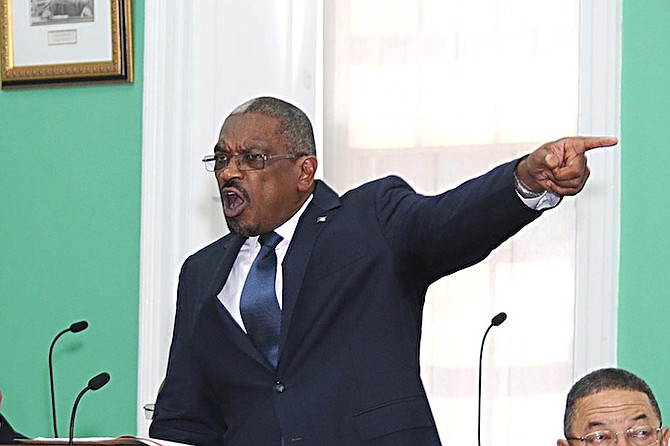 By SANCHESKA BROWN
Tribune Staff Reporter
sbrown@tribunemedia.net
OPPOSITION Leader Dr Hubert Minnis said yesterday, if elected, he would push legislation to limit the tenure of the prime minister to two terms, to prevent what is happening "right now with Prime Minister Perry Christie."
Dr Minnis told The Tribune he is not concerned about the affairs of the Progressive Liberal Party and will not directly comment on Mr Christie's decision to remain leader of the PLP. However, he said, he believes after two terms, whether consecutive or not, it is time for new leadership.
He said a maximum two terms in office would allow the generation of new ideas, new views and keep this country moving forward.
"I do not know what is happening with him (Prime Minister Christie), but the proper thing would now be for him to go," Dr Minnis said.
"After two terms, it is time for new leadership, new ideas, new direction and new focus. Young people are the future and stepping down allows everyone an opportunity to help guide the country. We cannot have another Pindling who served for 25 or more years. In order for this country to go where it needs to go the leadership must be changed after two terms and the FNM will push for that."
Former Prime Minister and FNM Leader Hubert Ingraham served from 1992 to 2002. Mr Ingraham was re-elected for a third, non-consecutive term in 2007 and served until the Free National Movement's defeat to the PLP in 2012.
Mr Christie served one term as prime minister from 2002 to 2007. He was re-elected as prime minister in 2012.
Dr Minnis also commended one of the PLP's "new faces," Minister of State for Investments Khaalis Rolle, for speaking "up for Bahamians and speaking out against his party."
On Wednesday, Mr Rolle warned that "painful radical surgery" was needed to haul the economy and society back on the right path. He said the Bahamas was trying to treat the symptoms rather than the underlying cause of numerous problems, including crime.
"Mr Rolle said the right thing, he was correct. He said what needed to be said except that the problem is the Christie led government," Dr Minnis said.
"Crime is out of control, unemployment is on the rise, the financial sector is deteriorating, the environment is destroyed and the PLP did all of this. We need a new government – the Bahamian people know that Mr Christie has failed to correct the ills of this county. We need transparency, we need law and order, we need a freedom of information legislation, we need Christie gone."
Last week Mr Christie revealed that he will go into the PLP's November convention and emerge as the party's leader. Party members expect this year's convention will be the PLP's last before the next general election, which is expected in early 2017.
In January, Mr Christie said he previously told his family that the 2012 general election campaign would be his last, adding that he would need a "compelling, tangible" reason to stay on.