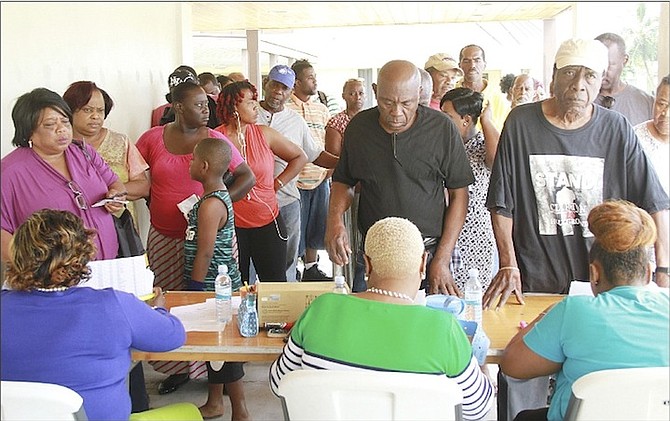 By NICO SCAVELLA
Tribune Staff Reporter
nscavella@tribunemedia.net
CLICO (Bahamas) policyholder Bishop Simeon Hall yesterday expressed relief that the CLICO debacle is finally at an end, comparing the gratification of the long-awaited financial resolution to having "delivered a baby".
Bishop Hall, pastor emeritus of New Covenant Baptist Church, said he was "personally glad" that he had finally received some financial relief yesterday from the seven-year long CLICO (Bahamas) ordeal, telling The Tribune: "Thank God it's over."
Other former CLICO policyholders also expressed their pleasure in finally recovering some of the "hard-earned money" they would have previously invested into their respective policies.
Bishop Hall's comments came at the Holy Cross Anglican Church, Soldier Road, where he and hundreds of other former CLICO clients gathered to recover at least a portion of their life savings and long-term investments, all of which were lost when the life and health insurer collapsed into insolvency in February 2009.
Last month, Prime Minister Perry Christie promised that a collective $16m cash payout would be issued to victims of the CLICO (Bahamas) debacle before the end of March.
Prior to his announcement, Bishop Hall had been vocal in urging the government to honour its promise to provide a resolution for the thousands of policyholders who lost money when the company collapsed.
"Personally I am glad that it has come to this juncture," Bishop Hall told The Tribune yesterday. "What I saw here today made me personally glad that I got involved as a pastor.
"Not for myself, but as a pastor. Pastors are trained to be empathetic, to get involved, to feel what people feel.
"The lady in a wheelchair, the man with a walking cane, and all this, these persons have been marginalised for seven years."
When asked about the length of time it took to get to this point, Bishop Hall said: "Better late than never. I've been in it, and I've raised some concern, and thank God it's over. I do feel like I've delivered a baby."
Another policyholder told The Tribune that while he was initially sceptical over whether or not Mr Christie's promise would "materialise", it felt "good" to know that policyholders will get some sort of relief from "hard money that you've put into the policy."

"It's good to get some relief to know that you'd get something," he added. "Money always comes at the right time, so it's good to know that something's happening.
"You could always use money.
"Things rough out there so everybody could always use money, so better late than never."
In announcing the $16m payout plan during the mid-year budget debate, Mr Christie said the insolvent insurer's executive flexible premium annuity (EPPA) holders, and surrendered pension policies, will receive a cash payment capped at $10,000.
Anything owed above this sum will be paid off via the issuance to former clients of seven-year promissory notes (government bonds), which will provide them with quarterly insurance payments at the prime rate (4.75 per cent).
Vaughn Culmer, CLICO (Bahamas) operations manager, told The Tribune yesterday that the issuance of the government bonds will "hopefully" take place "within the next few months."
Additionally, surrendered insurance policies, death benefits, medical claims and staff pensions will also ultimately be paid in full, with this week's payments representing the first tranche.
The payout process will continue at the Holy Cross Anglican Church today and Saturday, and will continue from Monday to Wednesday next week.
The operation then moves to Grand Bahama next Friday and Saturday, with those in Freeport to be handled at the former office of CLICO (Bahamas).