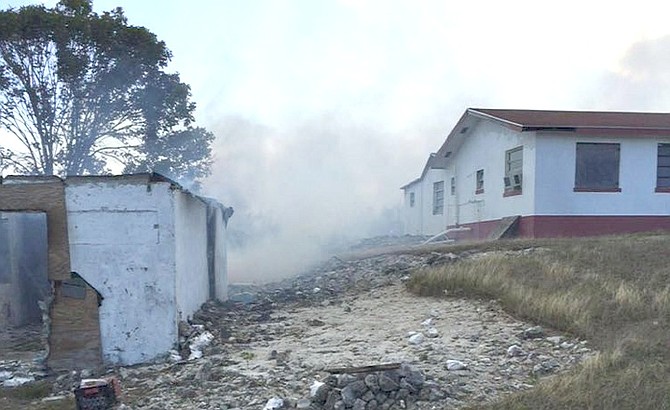 http://youtu.be/5CbHlKYTG8o
By RICARDO WELLS
Tribune Staff Reporter
rwells@tribunemedia.net
THE four massive fires reportedly burning in Crooked Island for well over a week have now been repressed but not fully extinguished, according to Crooked Island and Long Cay Administrator Francita Neely.
Addressing concerns over the potential loss of property and the escalation of the fires, Mrs Neely said yesterday efforts by residents in recent days have yielded positive results.
She told reporters that officials on the island, along with firefighters from the Royal Bahamas Police Force, were able to control the four separate blazes that were threatening communities on the island.
Residents in Major's Cay, Colonel Hill, Cabbage Hill and Landrail Point were forced into action early last week when fires erupted in inland bushes. The locations of the fires early on led many of the residents to believe that the flames would subside before posing any major threat.
However, Mrs Neely said the fast-moving nature of the fires pushed flames to the outskirts of the Major's Cay, Colonel Hill and Cabbage Hill settlements, sections in which many of the homes and business of those communities are located.
Late last week, matters worsened as a result of a lack of fire personnel and equipment on the island. Residents were forced to band together with basic household items to combat the massive fires.
According to some residents on the island, the best help in the ordeal came in the form of a Water and Sewerage 1,000-gallon water truck. Residents attached a hose to the truck and used it as "makeshift fire response vehicle".
The WSC service vehicle and other private, heavy-duty trucks were used to push flames back inland and away from structures in those three settlements.
At Landrail Point, residents were aided by the wind, which prevented the fire from expanding to the outskirts of the community.
News of the fires and their severity were first mentioned in New Providence last Thursday, when a resident of Crooked Island phoned into the "Hard Copy" radio talk show hosted by Steve McKinney on Peace 107.5FM to express concern over the ordeal.
In response to the caller, MICAL MP V Alfred Gray called the show to clarify the circumstances surrounding the fires, ending his call by reportedly noting the fires were contained and did not have the potential to affect homes or businesses.
However, at that time, flames were still raging closer to structures on the island.
On Sunday, Fire Services Chief Superintendent Walter Evans told The Tribune that firefighters from New Providence had been deployed to Crooked Island to battle the four fires. At that time, Supt Evans said one home had already been destroyed and stressed that several more were under threat.
According to the latest reports from the island, residents are still attempting to completely extinguish the fires with assistance by fire officials out of the capital. The MICAL MP was said to be on the island over the weekend helping fight those fires.
Watch the fires on video at tribune242.com